Moving up in the world
Like Wednesday before me and probably like many after me, I'm giving up my beautiful, convenient dowtown surroundings for the dubious pleasures of residing uptown, Harlem to be specific. A weekend spent grilling in a friend's lawn convinced me that I can no longer live without a little place to step out of my apartment without being run down by a car or an NYU student. And so, on September 28, I'm packing my pots and pans and other paltry possessions and heading to 128th Street . Fifth Avenue, mind you, but 128th Street nonetheless (to the apartment in this house!).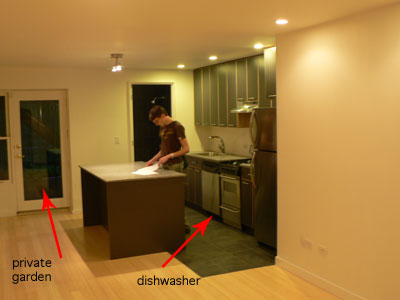 I am experiencing a deep panic that comes back a few times a day over giving up such access and proximity to everything. But this isn't a neighborhood we'll ever be able to really afford, although I suppose we could stay in our walk-up shoebox forever. When there's nothing worth living in for less than $750,000, it's time to move, even if it's just to another rental.
And although I'll be just a few blocks from the good express train, which can whisk me down to Union Square 24 hours a day in just four stops, I'll no doubt become estranged from the little places that have made this feel like home to me, and that have been the subjects of many posts here on Eat.
Balducci's, Gourmet Garage, Jefferson Market, Citarella, even Whole Foods Union Square…I went to every one of these dumb places for some item or another. Don't get me started on my precious gay thrift shops, Angel Street and Housing Works, where I've found so much cookware and furniture.
But of course the biggest loss, and the one that stings the most, is the Union Square Greenmarket. We've had our ups and downs, but there's no better place to be in the hazy days of late summer and the crisp days of early fall. I can get there in 20 minutes from my new place, but will I? I won't have the luxury of dashing up three blocks at 6 pm for dollar bags of tomatoes and corn. It will have to be a planned excursion, one I'll have to think about in advance. That's likely to be the biggest change in leaving University Place—no more running out on a whim to the shops that have fed me and clothed me for three years of my short life.