About EAT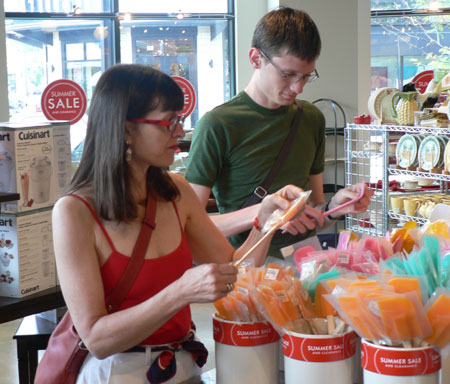 Mom

I learned a lot about cooking from my mother, a great cook in her own right. I further honed my skills by spending a couple of years in an apprentice program in which I went to school and at the same time worked at the Watergate Hotel in Washington, D.C. This was back in the early 70s and was one of the first programs to train young Americans in the culinary arts; I don't know if it's still in existence. My budding career was cut short when I became pregnant with Leland's older brother—standing on your feet for ten hours in a restaurant kitchen and lifting 50-pound stockpots do not mix with pregnancy.
So that's how I wound up in Pittsburgh, where Jon and Leland were born, and the home town of their father. Since then I have had a diverse professional life, including working for many years in the field of mental health and chemical dependency treatment. I never lost my love of cooking, though, and I always cooked for friends and family.
When I 'retired' from the mental health field I got back into cooking a little bit by working in a small kitchenware store, catering off and on, teaching a few cooking classes, taking some classes myself, and continuing to cook for fun.
I am remarried to Pittsburgh singer/songwriter Billy Price. We have four great kids—Jon, Leland, Valerie, and Calvin. Bill and I volunteer for an organization called Retrouvaille and I'm proud of our efforts on the behalf of the hurting couples who get help from us. For fun I am an avid reader with eclectic tastes. I love to shop, especially bargain-hunting, and travel. We just returned from our 20-year anniversary trip to Spain in November where we had a great time, mostly eating and touring various markets; in two weeks I think we went to one museum! The highlight of 2006, aside from the trip, was our holiday open house. We entertained over 120 people, and Leland and I did all the cooking ourselves! The whole family pulled together to make the party a success, moving furniture, decorating, greeting the guests, hanging up coats, and just making sure everything went as smoothly as possible when there's that kind of crush in the house. It was a lot of fun.
Leland

I started Eat in October 2005, shortly after Nathan began running a server out of our tiny New York apartment. I had been on blogger, but I was tired of having such little control and being subject to blogger's technical problems. I like to have my tech support under the same roof. Mom started posting at the end of February 2006, and it's been a fun way for us to do something together even though we live far apart.
As a child and teenager, I was a typical momma's boy, spending as much time in the kitchen with her as she would allow me to. I learned a lot just by watching her, and sometimes she'd let me help with a dinner party. Of course now that I'm grown up, I regret not learning more. This blog is a way to rectify that situation.
When I was in high school and college, I worked in a number of restaurants. I even did a stint making crêpes at Crêpes Parisiennes in Shadyside. But I never harbored any dreams of cooking professionally, and I still don't.
I have lived with Nathan in the Central Village since the summer of 2004.