Murray's Cheese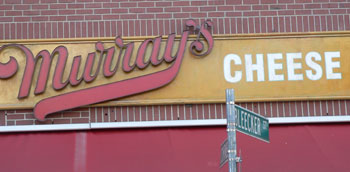 I went to Murray's Cheese for the first time today. Every time I try to go there it's pouring rain. Today was no exception, but I went anyway.
Usually, and embarrassingly, I buy my cheese at Whole Foods Market or from FreshDirect. I know it's better to go to a real cheese shop and to watch them cut it from a wheel, but I don't always have time for that. I think I'll make time now, though, after having such a good experience today. Murray's is big, clean, and manageable. The staff wasn't in my face the way they can be in a butcher shop or a wine store. Just leave me alone and let me look at stuff for a while. I'll call you when I need you. So I looked at the cheeses behind the counter for fifteen minutes before asking for help. A gracious, bearded man let me taste several roqueforts and a few cheddars with no huffing or puffing. He made recommendations of better, less expensive cheeses than the ones I asked for. He waited while I discussed the wonder of Keen's cheddar (of which I bought a half pound at a much better price than Whole Foods) with another customer.
Overall it was pleasant, and I have every intention of going back. I walked out with the cheddar, a quarter pound of a salty and intense roquefort, and a few other dairy products, including a half pound of Ben's Cream Cheese. Has anyone tasted this yet? It's apparently been made on the Lower East Side for a century, and it's about the same price as Philadelphia, to which I have been shamefully addicted since elementary school, and which I know is stabilized, processed crap. I'll let you know if Ben's is any good.