Garden of Cheatin' strikes again
I've had my share of getting ripped off by Garden of Eden, so tonight's trickery came as no surprise.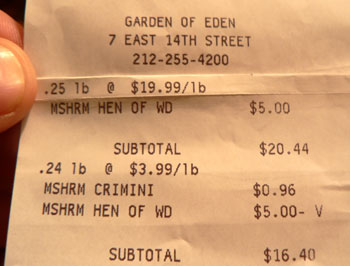 My guilty-looking cashier asked her colleague the code for my small bag of cremini mushrooms, and I don't know if she gave her the wrong one on purpose. Needless to say, I was watching the monitor like a hawk, and I piped in, "These aren't Hen of the Woods! They are cremini!" She gave me a pathetic apology, and I replied that I was used to it.
This scares me. What percentage of customers are prepared to argue with these non-English-speaking cashiers over the price of their specialty produce? Ten percent? How many people will immediately recognize that "HEN OF WD" is referring to the mushrooms that Garden of Eden is charging them for, when it's five times the price of the mushrooms they will bring home? Most people won't even notice that they paid five dollars for a few mushrooms, and I bet this happens at this store fifty times a day.
Why do I keep going back, people may wonder. Because I'm addicted to the fabulous food, and because I know enough to not get taken.