Alice Waters's onion tart
This post is about the best onion tart I've ever made or eaten, and I've had quite a few of them. Onion tarts are my favorite food, the only competition being onion soup. Something about deeply cooked onions, and their perfect balance of sweet and savory flavors, is really just the end for me.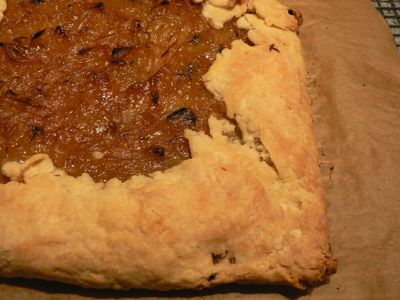 The onion tart recipe in Alice Waters's beautiful new book is an improvement on my usual custardy recipe. Instead of dulling the flavor of the onions with eggs and cream, it just uses a truckload of onions, which are juicy enough to stand alone. A piece of this tart is as satisfying as a great slice of pizza.
Alice's crust might replace my standard formula. It came together easily and was a cinch to roll out. Maybe I've just gotten smarter about rolling out crust, but these proportions seem pretty foolproof. For one open-face tart, you need
1 cup all-purpose flour
1/4 teaspoon salt
6 tablespoons cold butter cut in cubes
1/4 cup ice-cold water
Use a pastry blender or (my preference) a plastic scraper to cut the butter into the flour and salt until a few large clumps remain. Pour in 3/4 of the water and stir it in with a fork. Using your scraper (or another tool, but I find a scraper to be the best for this), continue lifting and folding the dough over onto itself until it holds together, which should take about a minute. Add more water a few drops at a time if needed. Wrap it all in plastic and refrigerate it for an hour.
In the meantime, cook two pounds of thinly sliced onions in a large skillet with four tablespoons of fat (butter or olive oil or both) and a few sprigs of thyme. Cook them for at least thirty minutes, until they are very soft and juicy, keeping in mind that they will still face nearly an hour in the oven. Season well with salt. When they are cooked, cool them for at least ten minutes in a bowl.
Preheat the oven to 375º. Roll out the dough on a floured surface to a fourteen-inch circle. If the dough is hard when it comes out of the fridge, Alice advises you to let it sit on the counter for twenty minutes to soften up. Pinch together any cracks that form while rolling. Place the circle on a parchment-lined baking sheet, and let it firm up in the refrigerator. Alice has extensive tips on rolling out tart dough, but you'll have to buy the book to read them.
Spread the onions on the dough, leaving a 1.5-inch border all around and removing the thyme sprigs as you go. Trim the border if you want it to look neater than mine, or leave it rustic. Fold the border over the onions, brush it with egg wash if desired, and cook for about 50 minutes, until the bottom of the crust is well browned. Let it cool completely on a rack. This tart tastes twice as good at room temperature, so try to be patient.