Onion tart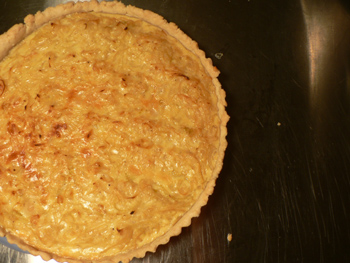 I bought my first tart pan last week, and what better way to baptize it than with a sweet and salty onion tart? Searching for André Soltner's onion tart landed me at Orangette (you can see how I copied her off-center picture style). She says that "every onion comes into the world hoping to find its end in this tart," and it truly is a delicious little thing.
It's amazing how much easier this tart was last week than it was last May. Sometimes I cringe looking at my old posts! But I'm here to learn. Having a food processor is an enormous help for novice crust-makers like me. Martha Stewart's pâte brisée came together like a dream. As I was transferring it from the table to the pan, I marveled at its strength and suppleness.
Apart from the crust, there's nothing to this recipe, and I made it twice over the weekend (the first time with olive oil, the second time with bacon fat, which I prefer). It's good at all temperatures, including cold out of the fridge.
Onion tart
1 half-recipe Martha Stewart's pâte brisée, unbaked
1 to 2 tablespoons bacon fat or olive oil
1 1/2 pounds yellow onions (about 2 large), peeled and very thinly sliced
1 large egg
1/2 cup heavy cream
Grated nutmeg
Preheat the oven to 375 degrees. Roll out the pâte brisée, and line a 9" removable-bottom tart shell with it. Cover with plastic wrap and refrigerate.
Heat the fat in a large skillet over medium heat, and sauté the onions, stirring regularly, until they are lightly golden and tender. Remove the skillet from the heat.
In a small bowl, beat the egg and cream together. Season lightly with salt, pepper, and nutmeg. Add this to the onions and stir to combine.
Remove the tart shell from the refrigerator, and fill it with the onion-egg mixture. Bake for 25 minutes, or until the filling is golden brown and set. Serve hot or warm. (I let my second tart brown a bit more than the one above.)