How can you mend a broken tart?
And here I thought you needed cold butter to make pie crust. Not so, according to numerous recipes, such as the one I tried this weekend, from Pierre Hermé's Larousse des desserts. Why am I always trying so hard to keep butter ice cold? I clearly have a lot to learn about crust, and how the different ingredients and their temperatures affect the finished product.
I used Hermé's crust to make my favorite onion tart, and it almost went off without a hitch. The crust comes together easily, which is no surprise considering the outrageous amount of butter in it.
190 grams butter (about 13 tablespoons), cut into small pieces, at room temperature
5 grams salt (about 1 teaspoon)
5 centiliters cold milk (slightly less than 1/4 cup, or slightly more than 10 teaspoons)
250 grams flour (2 cups)
I'm translating this from the French. Put the butter in a mixing bowl and smash it around with a wooden spoon. Dissolve the salt in the milk, and then mix it in as well as you can with the butter using the wooden spoon. Sift the flour into a bowl, and add it to the butter in stages, en la versant en pluie, trying to not work the dough too much.
Once the flour is somewhat incorporated, pour the mixture onto a work surface and make the dough by hand (I like to use my hand and a plastic scraper). Crush the dough against the table with the heel of your hand to make it smooth. It comes together very quickly. Split it in two, wrap it in plastic, and refrigerate for at least an hour. I put one half of the dough in the freezer for a future tart.
All of this went fine, and rolling out the dough was easy too. It was in pre-baking that I ran into trouble. After 15 minutes of baking under beans, I took it out to have a look, and the edge of the crust had shrunk considerably. In fact, it practically disappeared, leaving me with a flat crust. I used the trimmings I had leftover (which were intended for cheese sticks!) and made a new rim, which stressed me the hell out, although it did work in the end. You can see below where the crust broke—look how low the original is, and how much height I had to add. After another fifteen minutes of pre-baking, I added my well-caramelized onions and my custard mixture (one egg, 1/4 cup cream, 1/4 cup milk, salt, pepper, nutmeg), and baked it for about 25 minutes, until it was well browned.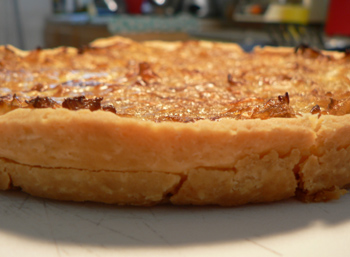 The crust is extremely good: flaky, buttery, and tender. When I use the second half, I'll really bulk up the sides and make them as tall as I can before pre-baking. Otherwise, this bizarre crust is a keeper.