Spoon pork, for the last time
It's hard not to post about spoon pork, also known as Pork Chops Rebecca, since it's so unbelievably delicious almost every time I make it. I promise this is the last time.
Here's tonight's tasty rendition, served with oven fries and a bowl of sauce on the side (not pictured):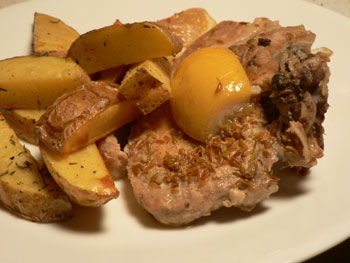 I made this once last week to no great applause; I realized later that I hadn't cooked it long enough. This dish seems to require a solid two hours over low heat. You could probably enjoy it after thirty minutes, but anything between thirty minutes and two hours is dry and uninteresting. The meat goes through three phases: initial tenderness followed by a long period of being overcooked followed by extreme tenderness, having been defeated by very low, moist heat.
It's called spoon pork because a spoon should go through it. Test it with an actual spoon—if it doesn't go through, keep on cooking.