Pork Chops Rebecca
Tonight I made the pork chops described by mom in her comment on my last chops. I have dubbed the dish Pork Chops Rebecca, and it's an excellent method of preparing today's extremely lean pig flesh.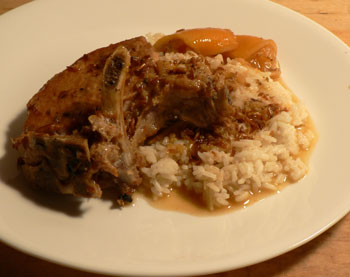 Here are mom's directions:
First I season them with lots of salt, pepper, and cumin and brown them well on both sides in a skillet in plenty of olive oil. Then I quarter some lemons and squeeze the juice on the chops and leave the squeezed lemons in the pan. I mince about 5 or 6 large cloves of fresh garlic and sprinkle it all over the contents of the skillet, pour a little chicken stock in, cover, turn the heat down to low and simmer for about 2 hours or so, until the meat is so tender that you can cut it with a fork. About 1/2 hour before they are done I season them with some dried oregano. I add more stock as needed so there is always some liquid in the bottom of the pan. I serve this with rice and it's another man-pleaser. The lemony, garlicky drippings are really good on the rice. Make sure you use plenty of salt.
The cumin, garlic, and lemon cooking together in olive oil is torturous during those two hours, and all you want to do is stop cooking and eat, but it is worth the wait. I recommend serving the cooked lemon wedges alongside, the meat of which turns into a delicious marmalade, perfect for mixing with your rice or spreading on a fresh baguette.