Mom makes pot pie
Outside of a roast chicken with gravy, I don't know of a more surefire way to make men and children happy at the dinner table than to feed them home made pot pie. It is a little bit of trouble to make, even if you start with a deli-roasted chicken, like I did today, and boxed chicken stock. You still have to make pie crust, prepare and cook the vegetables, cut or tear the chicken into chunks, make the sauce, roll out the pastry and fit it into the casserole, mix the filling all together and pour it into the casserole and top it with the top crust, crimp the pastry, and bake.
Here is another recipe from Marion Cunningham's edition of the Fanny Farmer Cookbook, slightly adapted. I added some seasonings to the sauce and squeezed some lemon juice into it as well. If you're ever making a cream sauce and it needs brightening up, try a few drops of lemon; it makes a big difference.
Note: We like crust so I put a bottom crust as well as a top crust on our pie; as long as you bake in a hot enough oven it gets nice and brown on the bottom.
Chicken Pot Pie, Fanny Farmer Cookbook, by Marion Cunningham, 1990 edition
(serves six)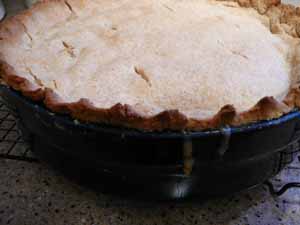 8 tablespoons flour
8 tablespoons butter
1/4 cup finely chopped onion
1/2 teaspoon nutmeg
4 cups chicken stock
1 cup heavy cream
salt and pepper to taste
2-3 tablespoons fresh lemon juice
1 teaspoon thyme, fresh or dried
4-6 cups large chunks cooked chicken
1 cup baby or sliced carrots, cooked
1 cup diced potatoes
1 cup frozen peas, thawed
8 oz. mushroom, cleaned, thickly sliced, sauteed in butter
handful of dried cranberries
1 recipe Mom's Pie Crust or any pastry for a double-crust pie
Make pie pastry and put in refrigerator to chill while preparing other ingredients. Put chicken stock in large saucepan and heat to simmering; add carrots and after about 5 minutes add diced potatoes. Cook them until just tender, testing frequently; don't overcook as they will cook a bit more while pie is in the oven. When done, drain in colander set over a bowl to catch the stock. Meanwhile, prepare the mushrooms by washing (yes, it's okay to wash mushrooms!), slicing thickly, and frying in butter. While they are in the skillet sprinkle with salt, pepper, and a bit of lemon juice. Don't let them get too brown; you just want to get the juice out of them so they don't make the sauce watery. Set all the vegetables aside with the chicken.
Melt the butter and add the finely chopped onion. Cook until translucent but do not brown. Add nutmeg to butter, then whisk in the flour and cook, stirring with whisk, for 2 minutes. Slowly add the stock, cream, thyme, and salt and pepper to taste. Cook for 5 minutes, until thickened and smooth. Add lemon juice, taste again and add more salt if it needs it, remembering all those bland vegetables. Fold sauce into large bowl with chicken and vegetables, along with cranberries, using rubber spatula to gently combine all ingredients.
Turn oven on to 400º. If you're using a bottom crust, divide pastry into 2/3, 1/3, the larger portion will be rolled out for the bottom. If you just want a top crust, divide it in half and save the other half in a plastic bag for a quiche or something. For the double crust pot pie, roll out the larger piece of dough and fit it into the casserole, pressing it firmly onto the sides so the sauce doesn't seep underneath. Pour filling into it, then roll out top crust and place over filling, crimping all around the edges. Cut several vents in top crust so steam can escape. Bake for 45-60 minutes, or until the crust is nicely browned and the filling is bubbling up through the vents (and onto your oven floor).