Cooking 101, Mom's Pie Crust
At the request of several readers, or it may have been several requests from one reader ; regardless, I'm going to attempt to transcribe my recipe for pie crust. Please, before any pastry purists get snooty with me, this is not classic pastry; it is also not as good as my mother's pie crust. My mother still makes the best apple pie in the whole world and her pecan pie isn't bad, either, not to mention the peach and cherry.
However, I got tired of wrestling with so-called "classic" pastry, having it fall to pieces while transferring it from counter to pie plate and having to pinch it back together again, wondering if I had put enough ice water in it or if I had over-handled it and if it was consequently going to be tough. The recipe I'm giving you has been adapted from several sources and makes a big, 10-inch double crust pie. If you roll it really thinly you can actually get one 9-inch single crust, like for a quiche, out of it, plus an 8 or 9-inch double crust. We like our crust on the thick side. Or you can pinch off a hunk about the size of a newborn baby's fist and roll the rest out for your 9-inch double crust pie, and roll the fist-sized piece out, sprinkle with cinnamon sugar and bake for a little treat.
First of all, if you have long hair like mine, put it in a pony tail. Even people you are sleeping with don't like to find your hair in their food. Then wash your hands. Did anyone besides me have to stifle a gag reflex while reading Julie and Julia? The filth in that woman's kitchen!! I used to work for a caterer who watched us like a hawk when we arrived at work in her basement kitchen to see if we automatically washed our hands. Those who didn't she judged very harshly, but it is important. This same caterer, who was a good, if not terribly creative cook, didn't make her own pie crust. She told me one day that she was too angry to make pastry, that her anger caused it to be tough, and she used the kind that came in sticks. The following recipe happens to be very forgiving; you can make it when you're angry, and you can even put too much water in it, and it still won't be tough.
Mom's Pie Crust
1 cup self-rising flour
1 cup all-purpose flour
1 cup whole wheat flour (or use 2 cups all-purpose if you aren't on a whole grains initiative like I am)
1 egg
1 tablespoon vinegar (not balsamic!)
1 cup, or 2 sticks cold butter (must be real but doesn't have to be unsalted)
3-4 tablespoons cold shortening (I use Crisco)
Put the flours in bowl of the food processor and pulse until well combined. If you don't have one, mix well in large bowl with wire whisk. Break the egg into a measuring cup and beat with a fork. Add an ice cube to the cup. Add the vinegar to the beaten egg, and then add cold water until the mixture measures about 1/4 cup. Whisk with a fork until blended.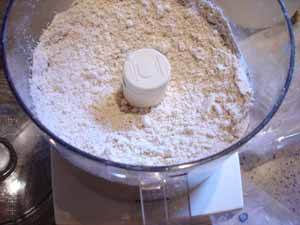 Cut the butter into small pieces and add to the flour. Cut the shortening into smaller pieces and add likewise. Pulse several times until the mixture looks mealy. It's okay if some of the pieces are still the size of peas; that makes it flakier. If you don't have a processor, you must use a pastry cutter or 2 knives to cut the fats into the flours and it will be much more tedious. You want to do it fairly quickly so the fats stay cold.
Add about half of the egg mixture to the processor and pulse a couple of times to mix. Rpeat with the remaining liquid. Try not to let the ice cube get into the bowl. Again, do something of the sort without a processor, but just toss with a fork to mix the liquid through. When all the liquid is added, squeeze a bit of the dough in your hand and see if it coheres; it may need a couple more tablespoons of cold water. You will know it is done when it holds together like Play-doh (well, maybe not quite that cohesive, but almost).
Have a plastic bag ready with a couple tablespoons of flour shaken into it. Squeeze and press the dough together as best you can and put it all into the bag. Be careful not to cut yourself on the blade of the processor! I have done that more than once, making pie dough, getting it out of there. When you get all the lumps you can in the bag, squeeze them all together from the outside of the bag, and then flatten the dough out into a thick disk, close the bag, and chill for about an hour before rolling.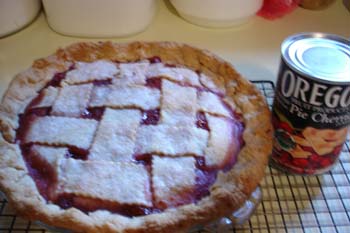 I always roll my pie crust between floured wax paper, peeling the top sheet off, flopping it over into the pie plate, and then peeling off the remaining sheet.