Mom makes plum crostata
Undoubtedly there are dozens of versions of plum tarts, pies, and cakes cropping up on the internet right now, due to Italian prune plums being in season. I'm partial to baking plums up in a crostata, which is relatively easy and absolutely delicious. Prune plums are easy to work with since the pits lift right out of them when you cut them in half, unlike most other plums which cling to their stones and basically have to be torn to shreds before you get them pitted. I only wish I had a source of free prune plums, like a tree in my yard or that of a generous neighbor. Many years ago, when Jon and Leland were toddlers, there was a big Italian plum tree in our neighborhood whose owners just let the fruit go to waste and rot on the ground. Sometimes when the boys and I were out walking I would furtively tuck a dozen or so plums into the pouch on the back of our stroller, feeling like Rapunzel's father and fearing that a witch might appear and demand my first-born child (I'm sure she could have done a better job with him!)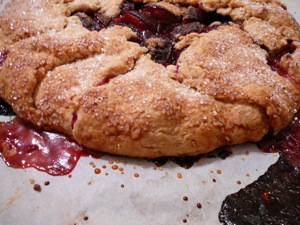 Plum Crostata
1/2-2/3 recipe Mom's Pie Crust – I used the larger amount because we like a lot of crust; you may add 1 tablespoon of sugar to the recipe like I was going to but forgot
12-14 Italian prune plums, washed, pitted, and quartered
1/3 cup brown sugar
1 tablespoon flour
1/2-1 teaspoon cinnamon
1 tablespoon milk
coarse or raw sugar for sprinkling
Prepare pastry and chill for at least half an hour. If you want to make the whole pastry recipe, you can use about 1/3 of it for a small quiche, or it would be perfect for Leland's Plum Tomato Tart with Pesto. The dough can also be rolled out, fitted into a pie pan, and frozen, either unbaked, partially baked, or fully baked, depending on what you plan to do with it. Once it is frozen it can be removed, carefully, from the pie pan, and stored, well-wrapped, in the freezer, if you have enough room in there so you won't be knocking stuff against it and breaking it. That wouldn't work in my freezer.
Mix brown sugar, flour, and cinnamon together in small bowl. Wash, pit, and quarter plums. Once the pastry has chilled, unwrap and roll out between sheets of floured wax paper to a very big circle, about 12-14 inches in diameter. Place pastry circle on large, parchment-lined baking sheet, preferably one with no sides. Beginning in the center of the circle, arrange the plum quarters, skin side up, with the slices very close together, like the petals of a daisy, stopping when you get 4-6 inches from the edges of the dough. You may mound the fruit a little in the center (in other words, put a second layer of plums just in the middle.) Sprinkle brown sugar mixture evenly over fruit.
Now, using both hands, fold edges of pastry up and over fruit, leaving plums in center uncovered, pleating dough as you go around the circle. Try to pinch any cracks and tears that may appear in the pastry closed, as these will leak precious juices. Brush with milk and sprinkle just the top of pastry with coarse or raw sugar.
Bake in preheated oven at 375º for about 45 minutes, or until pastry is well browned and fruit is bubbling. Cool before serving.