Mom makes more soup
As the tragic events of yesterday began to be reported, both cooking and eating seemed trivial and irrelevant. Although a Pittsburgh girl was wounded in the attack, we didn't know her or her family, and as far as I am aware, our only connection to the massacre, aside from sheer humanness, is the fact that Leland's partner, Nathan, graduated from Virginia Tech, so was all too easily able to imagine the scene as it unfolded throughout the day. Along with most other people in the country, if not the world, my thoughts and prayers are with the friends and families who are grieving their losses today.
My husband and son were glued to the evening news programs last night, watching the reports come in, and this is what I gave them to eat:
Creamy Potato and Ham Soup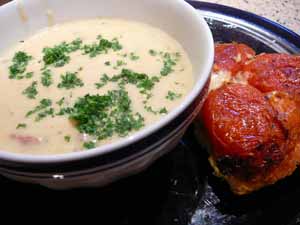 4 tablespoons butter
1 medium onion
1 stalks celery
2 carrots, peeled
2 cloves garlic, peeled
3 large or 5 small potatoes, peeled
2 cups chicken stock
1 teaspoon dried dill
1 cup half & half
1 cup heavy cream
2 cups diced or shredded ham
minced fresh parsley, preferably curly
salt and pepper to taste
Melt butter in large saucepan. Dice vegetables, beginning with onion and adding to pan as you dice, ending with potato. Sauté until onion is translucent, then add chicken stock and dill to pan. Simmer, partially covered, until vegetables are very soft, about 45 minutes. Either purée half of mixture in food processor or use stick blender (preferred) right in pan to purée partially, leaving some of the vegetables a bit chunky, or to taste. Thin soup with half & half, then stir in heavy cream. If it's still too thick add a bit of water, then stir in ham and heat. Taste for saltiness before adding salt and pepper. Ladle into bowls and garnish with minced fresh parsley. I like the curly parsley better.
This went well with a roasted tomato tart on the side. A soup like this is the ultimate in comfort food. When I am feeling powerless all I can think of doing is to feed people.