Mom makes a tomato tart
The weather has been very strange around here lately – positively balmy last week, when I was in bed but should have been hanging my Christmas lights, and now nose hair–freezingly cold. A good day to stay indoors cooking, if we didn't have that major holiday looming over us, and I don't mean Leland's birthday on Friday.
Well, I'm staying indoors anyway. I can always shop tomorrow. Meanwhile, I'm working on tonight's dinner and it sure smells good. A couple of months ago I had earmarked this recipe on Lobstersquad and never got around to trying it with good summer tomatoes. Yesterday Aldi had big packages of Roma tomatoes in a pile for $1 each, and I figured that they would work well in this, since first you roast them and then bake them under a biscuit dough. Ximena, from Lobstersquad, recommends serving this tart with a green salad, but I'm afraid that won't be enough for my chubby hubby and my meat-loving son. Fortunately, you never know what you will find at Aldi, and yesterday they were also selling "gourmet" smoked chicken sausages, in different flavors, and I got some of the Andouille. Although I guess Cajun is technically more French than Spanish, I still think they will go nicely alongside the tart with some salad.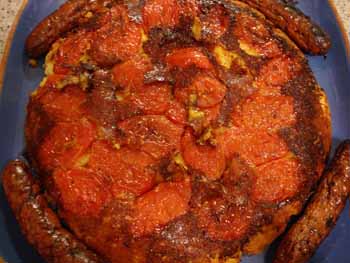 Okay, several hours later I think I can report that the tomato tart was an unqualified success. Both guys had little to say while they were eating it except for quiet moans and "Yum!" Calvin did comment at one point, "It's not fair." When I asked him what he meant, he replied, "That other people don't get to eat this." That was right before he told me it was the best thing I ever cooked for them. I think I'll be making it again!