Mom eats more pho
Due to the kitchen reconstruction and all the eating out we have been doing this summer, we have somehow found ourselves on a quest to find the perfect pho, especially as the season has wound down and the days have gotten cooler. As I mentioned in an earlier post, Tram's Kitchen has always been a favorite, and their pho really cannot be improved upon. The broth is rich and flavorful, the beef is tender, and the basil and beansprouts are fresh and crunchy. I don't think I've ever ordered anything at Tram's but pho, so can't comment on their other dishes. A June, 2006 review in the Pittsburgh Post-Gazette does mention a few of them, though, and favorably.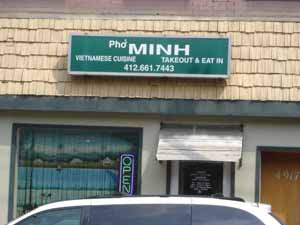 Then there is Pho Minh, where we have gotten into the habit of eating lunch on Saturday with a few friends. The pho there reminds me of the poem by Longfellow about the little girl who had the curl "right in the middle of her forehead" – when it is good it is very good indeed, and when it is bad it is horrid. That is, sometimes the broth is just right, and sometimes I think they must get a run on it Friday night so they throw a few gallons of water into it, it is so weak and flavorless when we order it. I really like their noodle bowls, though.
Both the Noodle Hut in Regent Square, and the Rose Tea Cafe have pho-like dishes, that is, bowls of broth with beef and noodles in them, but they're not exactly like pho with the basil and the bean sprouts and lime, and that ineffable pho flavor, so I don't think they qualify.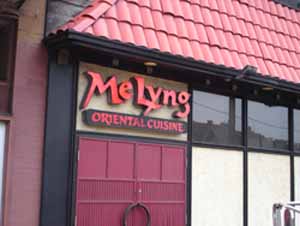 Which brings me to Me Lyng, where we ate last night, because my husband got a bee in his bonnet after reading a post by someone named Rick on a website called Chowhound claiming that they had much better pho than Tram's. It's located in Homestead , which isn't easy to get to these days because of all the road construction, but we took a circuitous route and avoided most of the traffic. A bad sign was that even at the height of dinner hour there were only three tables occupied. We tried both the spring and summer rolls before ordering our pho; our son got a spicy vermicelli dish. The pho was truly horrible; the broth was simultaneously bland, salty, and greasy, with big slices of raw onion floating around in it – something I've never seen in pho. They didn't serve any fresh basil or lime on the side, either, and eventually we doused our bowls with chili sauce to give it some flavor. And the beef was funky – gray, tough, overcooked, and gristly. Just thinking about the whole thing gives me a squeamish little shudder! I had heard a big sneeze from the direction of the kitchen but tried to ignore it, because at that point I still had an open mind, but now all I can think is that I hope I don't come down with a cold in the next few days, and I really hope my husband doesn't, since his singing helps pay our bills! Tram's is still the king of pho in Pittsburgh as far as we are concerned, Rick notwithstanding.
Addendum: I forgot to comment on the spring and summer rolls at Me Lyng; both terrible! The spring rolls were like hot pockets from the grocery store, not served with any dipping sauce at all, and the summer rolls, billed as "an appetizer like none you have ever tried" were simply rice paper rolled around iceberg lettuce and some chopped chicken and shrimp with no cilantro or seasoning of any kind, and served with a bowl of thick hoisin sauce to dip them in, which I thought was disgusting and bizarre. For the best summer rolls in town, go to the Noodle Hut.