Mom eats at Rose Tea Cafe
Another night, another dinner out. Actually, I've been alone since Wednesday and I've consumed nothing but coffee and ice cream for three days. Poppy was down in Annapolis at a conference for his day job and my eating habits just went to pieces. I have so much admiration for single folks who cook and eat real meals and often wonder how I would fare if I were actually in that situation for any length of time. As it was, even if my kitchen hadn't been torn up this week, it was too darn hot and humid to move, let alone cook, plus I reasoned that since Whole Foods ice cream doesn't contain high fructose corn syrup it's practically health food; and at my age I need the calcium for my thinning bones, don't I?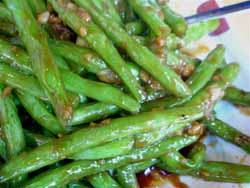 Tonight we ate at the Rose Tea Cafe, which originally started as a charming little beverage bar serving hot and cold tea drinks and specializing in so-called "bubble tea", tea with big tapioca in it that you slurp up through a wide straw. When I was little we called that kind of tapioca "fish-eye tapioca" and I can understand why it was re-named. A year or two ago, maybe longer, they began offering a menu of Taiwanese specialties, and very tasty they are, too. Bill ordered the short ribs with eggplant while I, desperate for something green and healthy after the last few days, got these beautiful green beans with garlic and ginger.