Mom eats at Enrico's Ristorante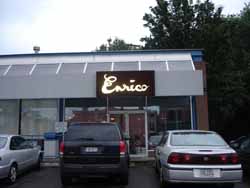 I know it's been several days since I've posted anything; meals have been either unmemorable or repeat visits to restaurants I've already written about, like the Rose Tea Café. Tonight, though, we ate at a place we've only been to a couple of times before and keep forgetting about, even though we live quite nearby: Enrico's Ristorante. Enrico's is located in an unprepossessing strip of shops in a small commercial area of Pittsburgh; it is a café that is connected to a biscotti bakery of the same name in the Strip district (Pittsburgh's wholesale produce area). Some people love Enrico's biscotti, but I am not one of them. I think they are too big and tough and I don't really like the flavors, either; I like the idea of their biscotti better than the cookies themselves. I make much better biscotti myself from a recipe in Alice Waters's Chez Panisse Cookbook, which I'll probably post sometime before Christmas. The restaurant, however, is lovely inside and serves simple, yet creative food utilizing local and regional produce, meats, and cheeses.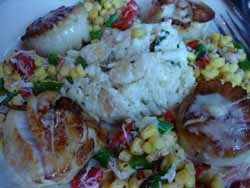 Poppy ordered the panzanella salad with linguine and mussels to follow, while I had the house salad (mixed greens with walnuts and dried cranberries) followed by seared scallops which were served with basil risotto and a strange little corn and crab relish. We both enjoyed our dinners immensely, there were no restaurant incidents to spoil the evening, and we were even able to save some money using the card from our Entertainment Book .