Less is more in Brooklyn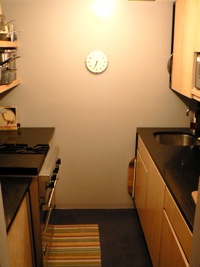 It's been just over a week now since I left my vast Harlem kitchen for the comforts of Brooklyn. The allure of private outdoor space was irresistible, but fleeting. With a thousand mosquitoes constantly lying in wait at the backdoor for their meal, I found that I didn't take advantage of the garden as I might have under other circumstances. That combined with the utter dearth of anything to do or anywhere to shop near where we lived was enough to send us packing after a depressingly short nine-month stint in the neighborhood.
But the irritation of moving twice in one year is overshadowed by the sense of peace and freedom that Nathan and I are finding in Brooklyn Heights. We're not on the most beautiful or most historic stretch, but we are in a modern apartment in a grand old co-op building. It's near the subway, Smith Street, and Sahadi's, and we'll be staying put for at least five years.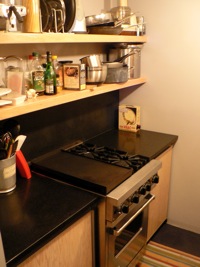 The big change for me is the size of the kitchen. It's much smaller than the ridiculous space I had in Harlem, although I am in no way complaining. This is an excellent kitchen for New York, and the apartment is small in general. It will just take a bit of time to get used to having one drawer instead of twelve.
The problem really is that that the Harlem apartment's kitchen was much too big. No rental apartment needs a dozen big drawers and even more cabinets. I had drawers in there with practically nothing in them. I ended up collecting a lot of junk that I had to get rid of upon moving. And then that ridiculous island, which had enough room for eight people to work. It made me disorganized. I found myself using up the entire surface when making a grilled cheese sandwich. There is such a thing as having too much space!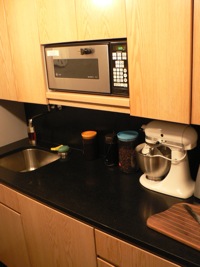 I've cooked several times in my little Brooklyn kitchen, and I genuinely enjoy the challenge. Having a bit less room to work forces me to organize myself and be tidy. My whole operation is cleaner and more streamlined. Having a dishwasher helps, and the Viking range makes the whole experience more enjoyable. (The Harlem place was fabulous except for the dinky, generic, piece of junk range that I fought with daily.)
The open storage is surprisingly handy. I'm keeping everything I use all the time there and tucking other items away in the few little cabinets I have. The lowboy fridge and freezer haven't bothered me yet, although I'm pretty sure I'd rather have more fridge and less freezer. An ice maker wouldn't be amiss, either.
Overall, this little kitchen is going to whip me into shape. No more collecting useless cooking utensils. No more hoarding pre-ground spices from the early 2000s. No more letting week-old leftovers use up precious fridge real estate. I intend to exit this apartment a more organized man than I was when I entered it.