First party post: meatballs
Mom and Nathan and the rest of the family and I have spent the last several days in a party-preparation hysteria, and all of the pre-party posts I meant to put up never happened because of so much shopping and cooking and decorating. Mom got the idea to have a Christmas party a few weeks ago, and before she knew it, over a hundred people said they would come (and they all came). When Nathan and I flew in on Wednesday, it was off to work immediately. Here I am studying recipes in the new kitchen.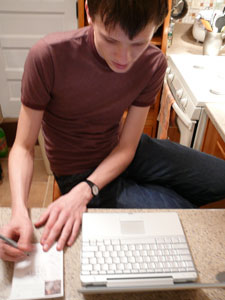 After collecting recipes online and from cookbooks, Mom and I hit the streets. We went to Whole Foods, Trader Joe's, the fabulous Giant Eagle Market District, the East End Food Coop, the new wine store in East Liberty, and a weird restaurant supply place in Monroeville called GFS Marketplace, where we kept a low profile: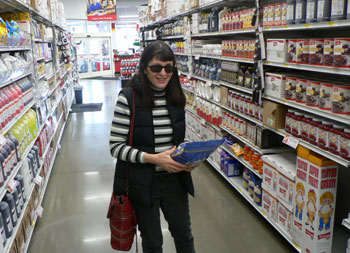 To avoid an unreadably long post, we're splitting up the work by posting on individual hors d'oeuvre that stood out. I'm starting with the Finnish meatballs that I read about on Wednesday Chef recently.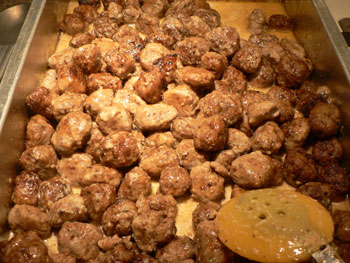 These balls are similar to the Swedish meatballs I grew up with, but they have cheese in them! I doubled the recipe (using four pounds of meat in total), but I could have tripled it. These things went fast. Every time I sent out a platter full of them, it came back five minutes later sad, greasy, and empty.
I made these meatballs in stages, because I knew I wouldn't have enough time to do it at the last minute. I made the meat mixture the night before the party, and Nathan and I rolled out the balls the following morning. The only complication with this was that the balls seemed to absorb quite a bit of the flour, and they started sticking together in the hot kitchen as I fried them. But this was easy to solve (putting the meat back in the fridge for twenty minutes), and they didn't all fall apart while simmering, as I was afraid they would. Thanks, Wednesday, for another winner.