Cooking for children, Swedish meat balls
I was feeding a young person tonight who was recovering from a recent bout of stomach flu, so bearing that in mind, as well as the recent emphasis in the blog on the basics, reminded me of what must be the first recipe I ever copied onto a recipe card: Swedish Meat Balls. It's funny to see the yellowed, beaten up card printed in my school-girlish back hand (it had quite a steep slope in those days). These meat balls were a very popular menu item at the family table when I was a child, and children do seem to love them, as do men with somewhat unsophisticated palates.
I'll type the recipe as I have it written, but I no longer make it with a "bouillon cube"; I now use beef stock instead of the hot water and the bouillon cube, and instead of the 1/2 cup milk and the 1/2 cup light cream in the sauce I just use all half & half. Also, the recipe claims to serve six, but that would be six people with very small appetites. Tonight I used 1 1/2 pounds of meat and increased the rest of the ingredients proportionately, we had five people at the table, and there were only two meatballs left.
Swedish Meat Balls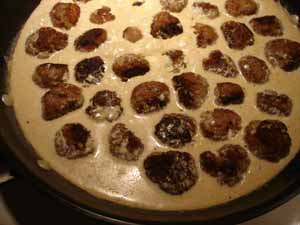 1 cup fine bread crumbs
1/3 cup milk
1/4 cup minced onion
1 pound ground beef (I used a beef/pork/veal mix tonight)
1 egg, beaten
1 1/2 teaspoon salt
dash pepper
1/2 teaspoon nutmeg (for that Swedish flavor!)
2 tablespoons butter
2 teaspoons flour
1 cup hot water
1 bouillon cube (or substitute 1 cup beef stock for hot water and bouillon cube)
1/2 cup milk
1/2 cup light cream
Soak bread crumbs in the 1/3 cup milk. Add onion, meat, egg, and seasonings; mix thoroughly. Shape into 1 inch balls. Sauté in butter in skillet until lightly browned on all sides. Remove meat, add flour to fat and blend (may need to add a little more butter to skillet). Add water, bouillon cube, milk and cream. Cook and stir over medium heat until sauce is smooth and slightly thickened, about two minutes. Add meat balls, cover, and simmer for 15 minutes. Serve with rice or noodles.