Another day, another sandwich
I know, I know, you're probably thinking, "For crying out loud, is she going to chronicle everything she puts in her mouth every time she goes to a baseball game? The season lasts until October!!" I promise I won't do that; for one thing, the choices are not that extensive, and for another, you all know what a picky eater I am; I've already sampled just about everything I am willing to eat that PNC Park has to offer.
Anyway, It's more interesting to talk about the food than it is to talk about the game. For a complete breakdown of today's abysmal loss, go to my husband and son's blog, Romo Phone Home.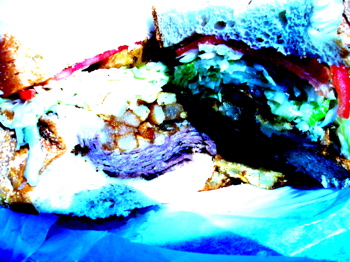 I was starving when we got there, having skipped breakfast, and immediately got myself a Pepsi and a Primanti Brother's roast beef sandwich. Bill had one of these on Wednesday night while I was eating that revolting panino and I noticed that it looked really appetising. The roast beef is new this year, and it is good. For the few of you who don't know about Primanti Brothers, they were the first to put French fries and cole slaw right on the sandwich. Their shop began as a little place down in the Strip district and was open very late at night (or early in the morning), catering to wholesale delivery truck drivers and after hours drunks. My husband has a funny story of coming to out of a drink-induced black-out one night, in the original Primanti Brothers, to find one of the brothers with his finger in his face shouting "I'm going to punch you right in the nose!" This was of course over 25 years ago now and we can only imagine what he had done to provoke the poor man.