Take me out to the ball game
Today was a beautiful day for a baseball game and Poppy was invited to be a guest on KDKA's Pirates Sunday, hosted by Rob Pratte. We both got passes to go to the broadcast booth at the ballpark, and once the show was over we had plenty of time to eat before the game started. I was starving because I hadn't eaten breakfast before we left home this morning.
The kolbassi with grilled peppers and onions always smell appetizing and they taste good, but I've learned from experience that they give me indigestion and seem to linger in my system for at least 24 hours, so we headed for Manny Sanguillen's barbeque stand, located along the river. I had thought that this was the only concession that was independent of Aramark, the corporate caterers who manage the rest of the food concessions at PNC Park, but upon further research it appears that Mr. Sanguillen runs his barbecue in partnership with Aramark somehow. At least it is unique to Pittsburgh, though, unlike most of the rest of the food available at the concession stands. By the way, for you young people, Manny Sanguillen was a catcher for the Pirates during the 1970s, known for swinging at almost any pitch, and thus, while hitting his fair share of runs, drew almost no walks. He had his brief moment in the sun when he pinch-hit a single in the 9th inning of the second game of the 1979 World Series, scoring Ed Ott and winning the game to break the 2-2 tie. The Pirates, of course, went on the win the Series that year. Manny can often be found at the concession stand, sitting in a big leather chair, greeting fans and signing autographs.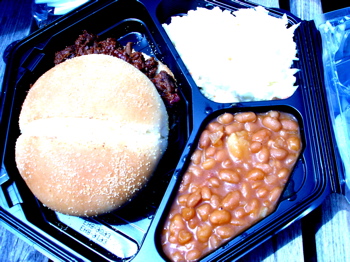 Manny's offers a limited menu of beef brisket, pulled pork, and grilled hamburgers; you can get all three as sandwiches by themselves or as platters with baked beans and cole slaw. I think the beans are pretty tasty, with barbecue flavorings and chunks of bacon in them. And I like to get the cole slaw on the platter and add it to the bun as I'm eating my sandwich. My only dilemma comes when I try to choose whether to get the beef or pork; they're both really good. Today I got the brisket. Here's me trying to keep the wind from blowing my hair into my mouth.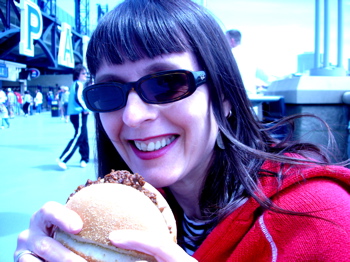 If only the game had been as good as the food. We watched Oliver Perez pitch 3 1/2 abysmal innings, lasting for what seemed like 3 hours. I said to Poppy, "What's the opposite of a nail-biter?" His reply, "A snoozer." Which is what we had, a snoozer and a loser, even when they took Perez out and put Vogelsong in, although he didn't do too badly and the game sped up at that point. We had won the last 2 against the Phillies and some foolish and optimistic fans had brought brooms with them to the ballpark, indicating their hopes for a sweep. I guess at some point they just quietly put their brooms down and left them there…