Onion pan bread and lamb shanks
Continuing my Mark Bittman recipe–following frenzy, I spent a frigid Saturday night making an onion pan bread and braised lamb shanks. The onion bread was a last-minute idea, decided upon when I realized that it was 9 p.m. and dinner preparations were barely underway; I knew we'd need something hot to nibble on as the shanks cooked.
So I browned two sliced onions in two tablespoons of butter, which took about 15 minutes. I greased a nine-inch pie plate and sprinkled in an alarming two tablespoons of brown sugar, which definitely could have been cut to one. I spread the onions around, and on top of them poured a dough of 2 cups of flour, 1 tablespoon of baking powder, 1 teaspoon of salt, 1 teaspoon of sugar (I omitted this because I was out of sugar, thank god), 1 egg, 1 cup of milk, and 1/4 cup of neutral oil (I only had olive).
It was done after about forty minutes, as promised, and it looked great: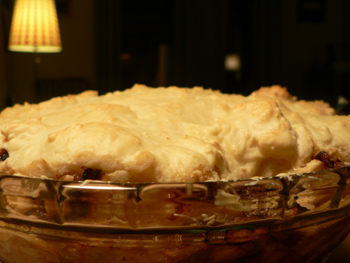 It tasted good, too, despite being so sweet. It was so similar to the upside-down tomato tart that I almost flipped it over, but I resisted. Dishes like this are crowd pleasers, but I think we all want more filling and less bread. I'd like to cut the dough in half and have a much thinner, more flavorful tart.
The lamb shank, meanwhile, took two hours, but it's definitely worth making, especially since the shank is a pretty inexpensive cut of the lamb. I make any braise I find with olives in it.
Ingredients
1 tablespoon olive oil
4 lamb shanks
2 cups sliced onions
1 tablespoon minced garlic
1/2 teaspoon thyme leaves, or a few sprigs, or 1/2 teaspoon dried thyme
1/2 cup stock, wine, or water (I used red wine)
1 cup cored, chopped tomatoes (I used a full can of Progresso tomatoes, because that's my style)
1 1/2 cups pitted olives (Kalamata were delicious)
Heat the oil over medium-high heat in a big pan that can be covered, such as a Dutch oven. Brown the shanks well on all sides, and season them as you're doing it. Remove the shanks, make sure you have two tablespoons of fat in the pan, and cook the onions for about ten minutes.
Add the garlic and thyme, and cook for a minute. Add the liquid and stir in the tomatoes. Return the shanks to the pan, and get them wet by turning them. Turn the heat to low, cover the pan, and cook for 30 minutes. Add the olives, give a stir, and cook for another hour, stirring occasionally. The meat will rise up the bone and start to fall off, and it will be very tender.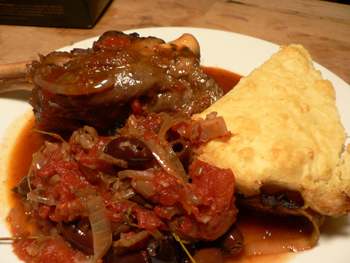 I like having the extra tomatoes, and I used extra olives too. The salty, acidic, sweet flavor of olives and tomatoes cooked together is wonderful, and it makes the dish for me. We ate the leftovers tonight, and like most stews it tasted better after a few days.