Leland copies Mom, makes a tomato tart
I totally copied Mom for dinner tonight, although mine isn't as pretty. But it did taste as good as she promised. Here's my attempt (in a skillet because I don't have a large enough circular platter):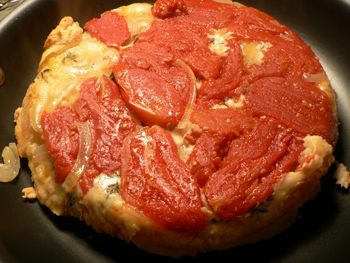 I used drained, canned tomatoes from Progresso, which I roasted first for 15 minutes with some sliced onions. For cheese, I shredded what I had in the fridge: a hunk of truffled something or other, and a larger hunk of goat cheese. The biscuit dough was easy to prepare and roll out. It was thick on top, thicker than I imagined anyway, and I had to bake it for over thirty minutes before it looked brown enough.
The next time I make this, I'll use a bit more than one 28-ounce can of tomatoes. I'll also add garlic, and I'll leave in the onion and thyme that I used tonight. It's definitely a recipe to keep in mind, though, as everyone almost certainly has what he needs to make it in the pantry at all times: flour, salt, baking powder, olive oil, and something to put inside.