Nina Planck's Real Food Market
I've been a little bit obsessed with Nina Planck recently, and I was one of the first people at her Real Food Market on 6th Avenue this morning. Balthazar had a bread stand, Murray's was represented, and there were a few other odds and ends on offer, like pickles. I suspect it will grow, as long as Nina keeps up a strong presence in New York.
If you have time, you should read Nina's op-eds, which all appear on her website. In one, she discusses in great detail her tumultuous tenure running Greenmarket. Another is about the idiotic decision to remove whole milk from New York City school cafeterias, and the third is about the downfall of the organic movement thanks to loosening standards. She's smart and very opinionated, and though her tiny markets can't compete with the Greenmarket behemoth, the negative attention might convince them to change some of their ways.
Nina believes that the best way to help the environment and ourselves is to eat minimally processed, local food, whether or not it carries the increasingly meaningless label "organic." She's a huge proponent of raw milk, which is illegal almost everywhere for no good reason. I tasted some last October during an Alice Waters presentation at school; it was grassy and weird but good.
But she does believe in cooking other foods. She did a hilarious interview in New York Magazine a few weeks ago in which she put the raw-food eaters in their place: "They have it exactly right—nutrients are destroyed when you cook food. But they have the foods upside down. We should be cooking broccoli and carrots to make them more nutritious. And we should be eating raw beef, raw fish, raw egg yolks in Caesar salads, and raw milk."
Nina is the opposite of what you expect the queen of farmers' markets to look like. Observe how glamorous she was this morning, with an Asian television crew catching her every word to this star-struck old biddy.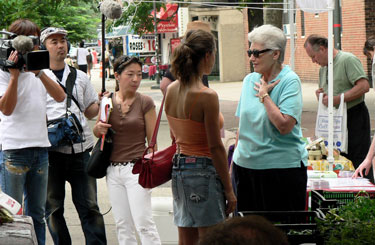 Check our her chic bag and bone structure. You don't have to be crunchy to want good, farm-fresh food.