A new recipe and an old favorite
My husband, Bill and son, Calvin, gave me two of Donna Hay's cookbooks for mother's day and I've been dying to try one of her recipes. I've been reading about her in several of the blogs I check in on from time to time, and the books are gorgeous. Tonight I made a side dish, Pasta with Buttered Broccoli, from her book Off the Shelf, Cooking from the Pantry.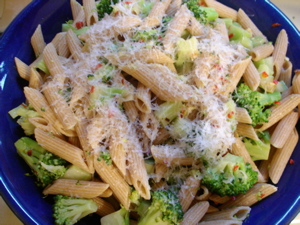 2 lb. broccoli, peeled and cut into small pieces
14 oz. orecchiette or penne (I used whole grain penne)
1 tablespoon olive oil
2 tablespoons butter
2 cloves garlic, thinly sliced
2 red chillies, seeded and chopped
1 tablespoon shredded lemon zest
cracked black pepper and sea salt
parmesan and lemon wedges to serve
Steam the broccoli over boiling water for 4 minutes or until tender. Set aside. Cook the pasta in a large saucepan of salted water until al dente. Drain. While the pasta is cooking, heat a large frying pan over medium heat. Add the oil, butter, garlic, chillies and lemon zest and cook for 2 minutes. Add the broccoli, toss to combine and heat through. Toss the broccoli mixture with the pasta, pepper, and salt. Place on serving plates and serve with parmesan and lemon wedges. Serves 4 as main dish or 6 as side dish.
Along with the pasta I prepared chicken from a recipe that I used to make frequently from the Craig Claiborne New York Times Cookbook, Lime Broiled Chicken. I could be wrong, but I seem to recollect that in the original recipe from the old edition of the book, the cook was directed to sprinkle the chicken pieces liberally with MSG before proceeding with the rest of the recipe. I used to do that, and kept a container of MSG in my pantry solely for this dish. Nonetheless, it's really delicious, with all the lime juice in the marinade. I have adapted the recipe a bit; it calls for corn oil and I use olive, and I add garlic.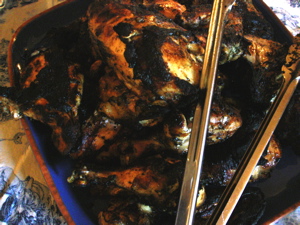 2 small fryers, quartered
1/2 cup olive oil
1/2 cup lime juice
3 large cloves garlic, pressed through garlic press
2 teaspoons dried tarragon
1 teaspoon salt
1/2 teaspoon Tabasco sauce
Combine olive oil, lime juice, and remaining marinade ingredients in wide, shallow bowl large enough to hold chicken. Whisk to combine. Add chicken and turn to coat with marinade. Place in refrigerator for several hours or overnight. Grill or broil for 45 minutes or until done, basting frequently with marinade while cooking.