Pasta with spicy broccoli and pine nuts
Who knew that when I was trying to come up with a dinner idea last night that would utilize a 5-day old bunch of broccoli that I would inadvertently combine the elements of the hottest new diet on the best-seller list—The Sonoma Diet, which I read about in the paper only this morning. It seems to be similar to the South Beach diet but makes a fetish of broccoli and also stresses the importance of nuts and whole grains (hold the press!).
Anyway, I had a hazy memory (from the 80's this time) of Marcella Hazan using broccoli in some kind of spicy sauce for pasta in one of her Classic Italian Cookbooks, but when I looked for it I didn't see exactly what I wanted. What I made was a blend of Marcella Hazan and Alice Waters's Chez Panisse Vegetables.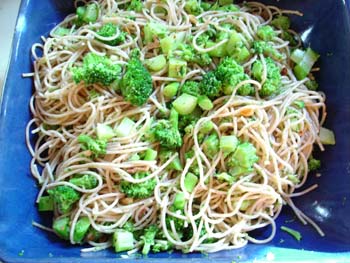 1/4 cup pine nuts
1 thick slice bacon, minced
1/4 cup olive oil
1 teaspoon red pepper flakes
3 cloves garlic, minced
1 bunch broccoli, trimmed, peeled, and chopped into small pieces
finely grated lemon rind, to taste
1/4 cup grated parmesan cheese, plus more for the table
about 1 pound pasta of your choice—I used a 13 1/2 oz. box of whole grain Ronzoni spaghetti
Place pine nuts in big, dry skillet and toast over medium heat. Remove to small plate while preparing the remaining ingredients for sauce. Add bacon to skillet and stir until it begins to brown, then add olive oil and pepper flakes and toast pepper, stirring pepper and bacon until bacon begins to crisp. Add minced garlic to skillet and turn heat to low. Meanwhile, have salted water boiling in large pot and blanch broccoli, drain in colander, and add to skillet just as garlic begins to turn golden. Do not let garlic burn or turn brown. Put pot of water back on to boil for pasta. Turn heat in skillet up a little and fold ingredients gently, letting broccoli cook a little in the spicy oil. Taste and add salt if needed; the bacon will have provided some salt. Return pine nuts to skillet.
Cook and drain pasta, reserving about 1/2 cup of cooking water, place in large bowl and pour contents of skillet over. Add the grated cheese, lemon zest, (I used my new microplane) and enough pasta cooking water to allow you to toss the mixture thoroughly. Serve immediately with extra cheese to pass at the table.
This tasted really great with the sweetness of the broccoli balanced by the saltiness of the bacon, the spiciness of the pepper, and the brightness of the lemon, and the toasty crunchiness of the nuts added just the right touch—perfect!