Wolferman's at Balducci's
Attention, Wolferman's English muffin fans in New York: Balducci's sells them in various flavors for $3.69.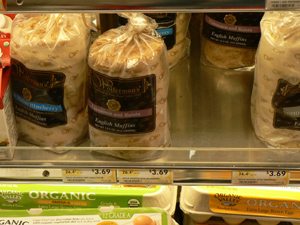 I figured this would be expensive compared to ordering them online, but in a surprising twist, it turns out they are $5 per package on the website if you order four packs, and only slightly less than that if you order six packs. And then there's the pricey shipping to worry about.
But the sale is still going on (perhaps it never ends?), which is where the most dramatic savings are to be found.
Personally, I'll be happy if I never see another Wolferman's English muffin, after going through six packs in the last month. They are very good, but they can't compete with my standard: the everything bagel from Bagel Bob's, which I can eat five times a week without getting bored.