Whoopie pies
I'm about six weeks from the end of culinary school, and I'm in the part of the program now where I cook in the school's restaurant. I wasn't prepared for how different class would be in the professional kitchen compared to the classroom kitchens of earlier levels, and at the beginning of this portion I seriously considered withdrawing. Of course I've since become accustomed to the pace and the pressure, but I felt a little waylaid at the beginning, as the service hour approached and I was a dozen tasks away from being ready and set up.
But I survived entremetier, garde manger, poissonnier, and the hardest, saucier, before finally arriving in what's generally considered (somewhat misleadingly) to be the easiest station, pâtissier. People only think it's the easiest because it's not hot back there and because you get an extra hour to set up, since no one orders dessert until after their meal ends. But the pastry station has its challenges, especially for a salt-oriented cook such as myself. I don't have a delicate hand—-I'm lousy at plating and making things beautiful. My own idea of beauty is quite a bit less refined than a French chef's, and the learning curve is steep. A perfect quenelle of ice cream, which seems to flow naturally off the ends of other students' spoons, takes me five or six tries to get right. I guess all things take practice. Witness my attempt at piping my name, with the chef's version below. She can write in chocolate better than I can write in pencil. I never even learned cursive!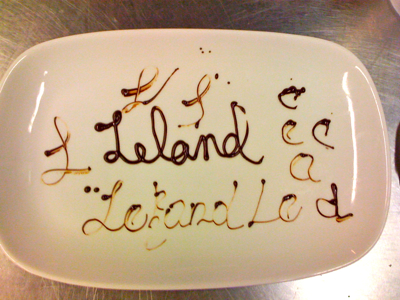 Last Thursday, the chef let our group devise a dessert special, which we were to prepare in addition to the rhubarb consommé and white chocolate parfaits that were on the menu. My friend Kim had once made some delicious peanut butter whoopie pies from a Martha Stewart recipe at one of her legendary brunches, and I thought it would be hilarious to serve them in a French restaurant.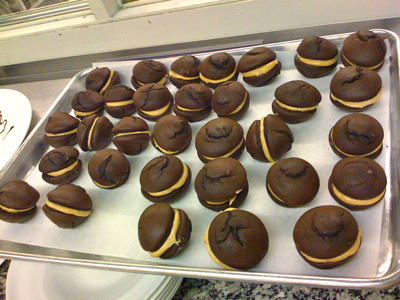 The recipe is as easy as can be, especially if you have a stand mixer and use piping bags for the cookies and the filling. We teamed our whoopie pies with a quenelle of vanilla ice cream (which we also made) sitting on sliced strawberries (I didn't want these but I had no choice), garnished with a mint sprig.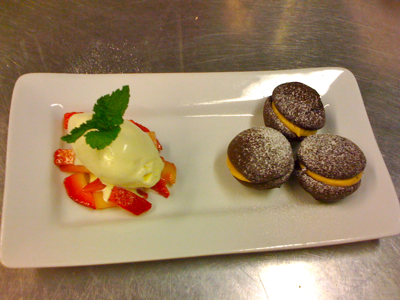 Only six or seven people ordered them, which surprised me, since who doesn't want a peanut butter whoopie pie? But we sent out a bunch of extras, and the chefs and students milling around cleaned off the trays pretty quickly.