Whole Foods raises prices
I'm on to you, Whole Foods Market. I know when you raise prices on the things I buy most. Just a few weeks ago, your house brand of ice cream went from $3.99 to $4.29. Then Trader Joe's opened and it went back down. I was sad to learn last night that your olive oil, which is the only one in town I buy, went from $6.99/liter to $7.99/liter. Why raise prices on your house brand, which is one of the only things that keeps people like me shopping at your store and getting jacked on other items? If I can't get a good deal on staples, I won't have the opportunity to spend $26/pound on cheese.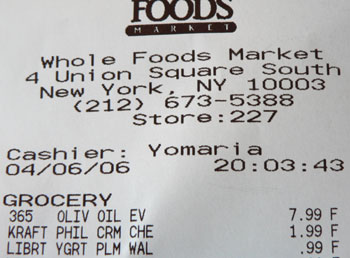 If anyone knows a reliable place to get olive oil at a better price, please leave it in the comments.
January 2007 update
The olive oil went back to $6.99 a pound a few months ago, and I take full credit.