White fish in bacon with mayonnaise
After two years of stressing about my cholesterol reading, yesterday was a day of celebration: my good cholesterol went up 17 points in the last year, and my bad cholesterol went down 17 points. I attribute the improvement to my new bicycle, which has opened up the city to me in ways I never expected, and to generally better eating habits, including regular snacking on prunes and almonds!
On this special day, I wanted bacon. Jamie Oliver has a recipe in his new book for roasted white fish wrapped in bacon, served with lemon mayonnaise and asparagus.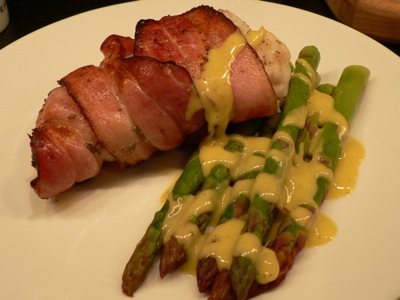 I didn't spend too much time with the recipe, and I won't reprint it word for word. I actually had a bit of trouble with the preparation. I think Jamie's bacon was thin and soft, whereas I had relatively good quality Schaller & Weber to contend with. This bacon takes a while to cook, and it doesn't shrivel up and harden the way I wanted it to. In any case, you can hardly go wrong wrapping anything with bacon, but if you do make this dish, you can use cheap bacon.
Jamie had me chop up a bunch of fresh rosemary, mix it with lemon zest, and spread it over white fish (I used monkfish) fillets along with salt and pepper. Wrap the fillets in a few strips of bacon. Cook in a skillet in olive oil over high heat for a few minutes, and then finish it in a 400ºF oven. I had to turn on my broiler to get the bacon to brown, but if your bacon is thinner you probably won't need to bother with that extra heat. It will need about ten minutes in the oven.
On the side, he has you serve simple steamed asparagus with lemon mayonnaise. This was the first time I used my microwave for a vegetable (I've only had this appliance for the last two months, since I moved into my Brooklyn apartment). I was positively thrilled with the results: I snapped off the hard ends, put the spears into a glass dish, seasoned with salt and pepper, added a bit of lemon juice and white wine, covered it, and cooked it for about five minutes. It came out soft and flavorful. The mayonnaise was also easy. He suggests whipping lemon juice and pepper into store-bought mayo, but you might as well make it yourself (especially if you're like me and you'd rather die than eat store-bought mayo). Whisk an egg yolk with a bit of mustard, lemon juice, white wine vinegar, salt, and pepper. Whisk in oil (I use olive oil exclusively, much to the horror of French chefs everywhere), drop by drop at first and increasing to a steady stream, until you have a nice sauce. Make sure it's very lemony and peppery, and serve it forth.