Western Pennsylvania to eat local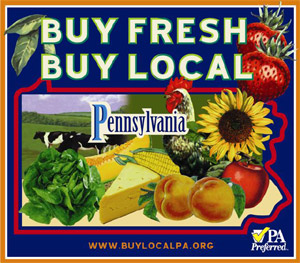 The Pennsylvania Association for Sustainable Agriculture has announced its first annual eat local food week, to begin September 10, 2006 and will include lots of events and activities in conjunction with area restaurants, businesses, farmers markets, and grocery stores. For a complete list go to the PASA website and click on Local Food Week.
In my opinion it makes a lot more sense to eat locally in September when the harvest is in than back in May, when those of us in more northerly climes would have had to sustain ourselves on rhubarb and ramps, with maybe a few very early spring greens if we could find them. It's one thing if you live in California or Florida (or Australia, I suppose) but quite another when you live as far north of the Mason-Dixon line as we do here in Pittsburgh. I do wonder about such crucial staples as coffee, spices, and olive oil, though; is it okay to use them if I buy them from a local grocer, i.e. an independent one? I'm sure these topics have been covered extensively elsewhere, so maybe someone will write in and enlighten me.