Welsh rarebit
Although I have no recollection of ever eating it before last Thursday, every woman in my family insists that we've been eating welsh rarebit on Thanksgiving morning since well before I was born. I think they're all crazy, because it's not a treat I'd be likely to forget. I probably slept through it a few times, and other times I was away. Either way, I partook of the rarebit festivities this year, and I'm glad to finally be down.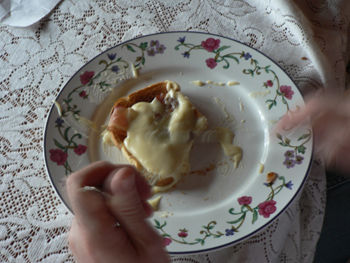 Welsh rarebit, according to the Wikipedia, was originally called Welsh rabbit, and it seems to have been a disparaging description of the Welsh equivalent of stewed rabbit. It is also (much less evocatively) referred to as cheese on toast, but I'm sticking with the name welsh rarebit. I got Grandma to give up the recipe:
2/3 cup flour, 1 teaspoon salt, 1/2 teaspoon dry mustard, dash of cayenne, 3 cups milk, 3/4 teaspoon Worcestershire sauce, 1/3 cup butter, 3 cups grated sharp Cheddar cheese
I make the basic white sauce with all the ingredients except the cheese. Then I add the grated cheese, and that's it. Bon appétit!
By making the basic white sauce, she means to melt the butter and then to whisk in the flour and cook for a few minutes without browning. The rest of the ingredients go in, and the cheese goes in once all is blended. Traditional recipes seem to add beer after the other seasonings, which sounds delicious, and I see others with Tabasco. Over toast and bacon, though, Grandma's was perfect.
Apropos of nothing, this is a picture I took of the wall in her kitchen, and it makes me feel happy to look at it.