Today I ate a cheese sandwich...
Leland tells me that this article by columnist Pete Wells caused a lot of grief in the world of food bloggers when it came out in March. I read it for the first time yesterday, on Yulinka Cooks and I'm glad no one sent it to me earlier or I never would have wanted to write a thing. As it is I feel thoroughly chastened and I'm trying desperately to think of a mission statement for our blog. Leland, meanwhile, is on vacation and fairly inaccessible in Europe, so we will be discussing all of this in more detail when he gets home; stay tuned.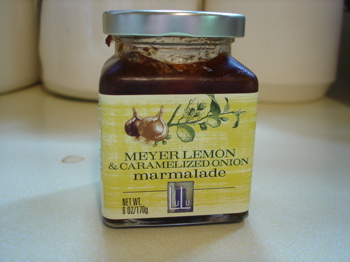 Meanwhile, I actually did have a delicious sandwich for lunch, thanks to this wonderful marmalade I bought at Mediterra Bakehouse when I was there last month. I put sliced roast chicken on Mediterra rye bread, layered with the lemon and caramelized onion spread. The marmalade is slightly sweet and has a smokiness that perfectly complements meat; last night Bill and I had leftover pork tenderloin sandwiches made with it, on Mediterra bagels. It would also be good with cheese and bread, as a kind of ploughman's lunch.