Toad in the hole
While my fellow food bloggers are busy celebrating spring by preparing asparagus, lovely springtime pasta salads, and other spring greens, I am marching to the beat of a different drummer by thinking about English nursery food.
We still have a nip in the air here in Pittsburgh, our farmer's markets aren't open yet, and I had a package of plump, pork country sausages made by the butcher shop of my favorite food purveyor sitting in the freezer that I wanted to use before summer begins. When Leland cooked his scallop soufflé last week I found myself fixating on toad in the hole, and thinking how much it has in common with what Leland made—an eggy batter mixed with protein and baked in the oven until it puffs up.
I am a long-time reader of English literature, and have always been attracted to descriptions of certain of their foods, particularly what you might call nursery food—shortbread, biscuits, bread and butter or toast cut into "soldiers", puddings of all kinds, pies with custard (why don't we serve it like that in this country?). I also like the idea of the full English breakfast with fried bread and grilled tomatoes and mushrooms. On the other hand, they can keep their suet and their Marmite.
The first time I read The Lion, the Witch, and the Wardrobe, by C.S. Lewis was as an adult, out loud, to Leland and his brother Jon, in the car on a trip to the Adirondacks. I will never forget the passage where the Pevensie children are welcomed by Mr. and Mrs. Beaver and given a meal in their home and the vivid description of all the food they ate for tea. I remember my husband and I looking at each other and salivating, and I can just imagine the impact the book had on a generation of war and ration book-deprived London children. Later on in the book Edmond is seduced by the White Witch when she offers him sweets which he can't resist, a plot development which must have made complete sense to kids who hadn't had sugar for as long as they could remember.
A series of adult books I've read recently begins with one called Not All Tarts Are Apple, by Pip Granger. The first two are told from the point of view of a plucky 7-year old in post-war London who has been adopted by a couple who run a cafe. She is obsessed with food as most children in those days must have been and there are lots of great food scenes in the books. They're funny, too.
Anyway, back to the toad in the hole. I got the recipe from Delia online, which is written by a well-known British cook named Delia Smith. She's got a no-nonsense, brusque way about her, in the manner of Margaret Thatcher. The Brits seem to respond to this type of treatment, and all I can say about that is that it's good Hitler wasn't a woman wearing a nanny uniform or the English probably wouldn't have had the will to resist and we might all be marching in goose-step formation today.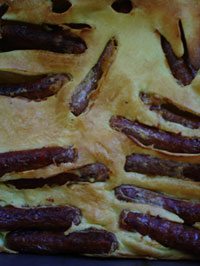 This being written by an Englishwoman and all, there were a few puzzling moments for me, like when she asked me to cook one thing on a baking tray and another thing on a baking tin. Then there was the "dessertspoonful" measurement that threw me; I had to call an English friend to ask what that meant. I'm glad I did, because I thought it must mean something small, like a demitasse spoon, when in fact it's quite big, about two tablespoons.
I increased the proportions of the batter a bit, since I was serving 3 of us as a main course. The onion gravy I made with half vegetable stock and half chicken stock, and half the Worchestershire sauce the recipe called for. I put the finished dish on the table with a bit of trepidation; after all, my husband is Jewish and my son is a teenager. I was a little afraid of getting the reaction from my husband that my mother got when she served him scrapple for the first time (prompting his rewriting the old Christmas carol to "Walking in a Presbyterian Wonderland").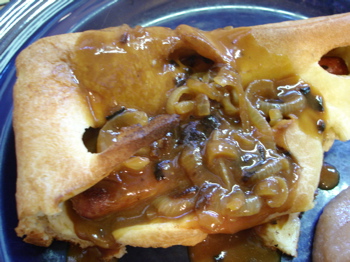 But I needn't have worried; they both loved it! In fact I barely got to eat any myself and the platter was licked clean. My hat's off to Miss Smith with the gravy as well, and she's right, it would be terrific with mashed potatoes should you ever find yourself with any and no sauce for them.