Three days in Paris
The week's vacation we just took in France was the best vacation of my life. It was the first trip I've ever taken that I truly didn't want to end. I'm usually pretty ready to go home after a week away, but this time, Nathan and I both wanted to stay (one night, over a wine-soaked dinner, it became a five-year plan to make that a reality).
My body is still on French time, and I feel extremely tired, so this first in a series of France posts will be a short one of highlights.
On our first full day in Paris, I did what I always do there, which is to wake up at 6 or 7 a.m. and hit the streets. I do this partly because I feel wide awake, but mostly because I'm excited to be there, and I love how empty and quiet the city is early in the morning. I strolled around, ate some pastries, had coffee, and watched food purveyors setting up for the day. Butcher shops were stacking steaks and chickens and andouillettes, bakeries were arranging hundreds of loaves of bread, and grocers were setting up fruits and vegetables. I was assaulted on the Rue de Rivoli by the scent of strawberries, and I splurged on a basket of fraises des bois.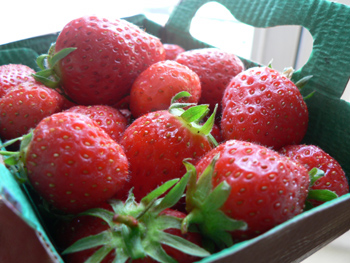 Later that morning, after I got Nathan out of bed, we ambled over towards the Bastille and came upon the best food market I've ever seen.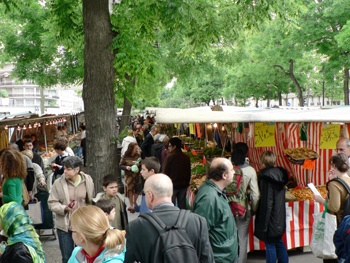 I believe this is the kind of market Nina Planck had in mind when she started her Real Food markets in New York last summer. There were hundreds of vendors selling mostly local but also imported products. I could have spent hours walking around, even in the dense crowd. All I bought was a jar of rhubarb confiture from Brittany, although I spent the day regretting not buying some of the potatoes you see cooking in the juice from these chickens: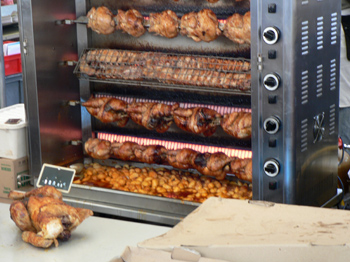 I'm sorry for the blurry picture, but have you ever seen something look so delicous? I couldn't get the smell and sound of them out of my head. The entire market was mouth-watering, and it made the thought of Union Square depressing. I know I shouldn't complain, and that we have it extremely good in New York in a lot of ways. But the variety of produce at these French markets, and the low prices, are heartbreaking.
The only other Paris highlight that I have a picture of is my pizza at Pizza Sant Antonio (16, Rue St Martin in the Marais). Mom: you and I ate here when we were in Paris together, which is the only reason I knew of the place. I remembered that we liked our dinner. All the pies are around 9€ (approximately $500 at today's rate), and the restaurant is packed with young, good-looking people. French pizza is hilarious, as it seems to always have an egg or a bunch of crème fraîche on it. I had the excellent chèvre pizza with lardons and, of course, plenty of cream: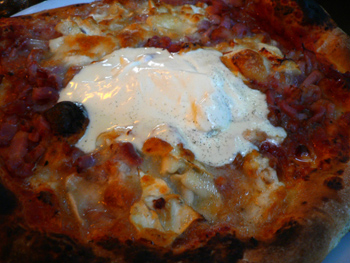 Coming up: adventures in the Loire Valley…