This marriage (of cooks and food snobs) is an abortion!
Katherine Wheelock, whose previous contributions to culture include telling men to tuck in their shirts and put on their shoes, has a problem with "foodies" as she explains in this morning's paper.
Join the club, lady! No one likes self-described foodies like the couple in her lead that are "a little self-conscious about being the foodie couple"—just not self-conscious enough to avoid calling themselves that. Declaring yourself a foodie, a wine buff, a fashionista, or an underground music junkie is as sure a sign of intolerable pomposity as language gives us.
But sometimes other people call you these things. Sometimes Katherine Wheelock calls you these things. She scoffs at her foodie couple for regretting having served store-bought tortillas to guests, instead of making them from scratch. That hits close to home, as Leland's past few years of cooking exploration have involved many similar pronouncements on everything from vinaigrette to pancakes. But for us at least it isn't about bragging rights—it is about spending less money, eating much better, and doing some pleasant work with your hands. (Or so he tells me.)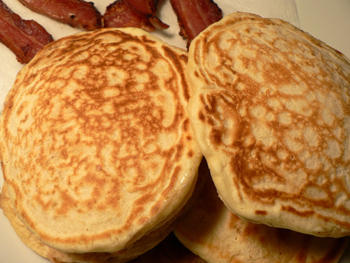 We avoid pancake mixes and salad dressings for good reason: they dilute the ingredients of simple and timeless recipes with fillers and corn syrup, but somehow cost more than the sum of quality parts. We haven't made tortillas in our house, but a SimplyRecipes post attests that it is "incredibly easy (and cheap) it is to make wonderful, tasty hot fresh tortillas." Sounds fun! Or, you could pop some factory tortillas in the microwave and call it a dinner party.
Speaking of dinner parties, the author writes as if they're common in New York. Unfortunately, this is not the case. Dinner parties, "laid back" or not, are difficult because no one cooks anymore. Leaving out this side of the story throws Wheelock's conclusions wildly off base. She paints a picture of self-obsessed foodie cooks booing off regular folk for cooking with Morton's Salt. In real life, a regular New Yorker's apartment is lucky to have anything beyond a disposable shaker.
The dominant culture of ordering in and eating out forces eccentricity on the few cooks there are here. Wrestling with a city that is not set up for home cooking, they've banded together to trade tips on where to get the best ingredients for the best prices and how to cook things in small kitchens. If their techniques (and occasional preference for a specific cheese) seem odd, so be it—they certainly aren't new. Depending on one's cultural lineage, it's possible even for Americans to find an appreciation for raw milk and preparations from scratch in their family histories. And don't even get us started on France.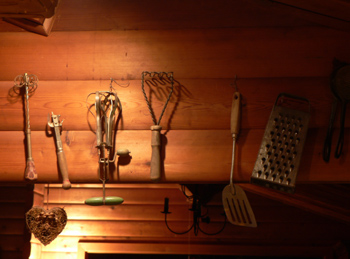 What seems odd to the cooking cadre, actually, is exclusively eating food prepared by strangers. When every meal comes from some unseen restaurant kitchen, often at improbably low or high prices, it's a wonder the body is nourished at all. Not that we're afraid to eat in restaurants—I'll even eat McDonald's when it's the best option available—but the regularity of it is a little disturbing. Particularly when it's practiced by those who would never eat at McDonald's, or buy a fruit that isn't marked "organic."
This brings us to our final and most bitter quibble with the story and the foodie label itself: everyday cooks are lumped with those who are too delicate (or "busy") to get their hands dirty on a regular basis. This distinction has escaped Ms. Wheelock in her safari through the land of people who care what they put in their mouths, but it is a significant one. Restaurant-going food snobs and once-a-year "chefs," with their chatter about fashionable city troughs and their borrowed tastes, are of little use to real cooks.
They're also dupes, in a city where pretty much everyone is lying about everything all the time (and doubly so if there's a profit in it), to think that the food they're served is exactly what it's claimed to be. Caterer Serena Bass is interviewed, seemingly to mock her clientele: "It's become very important to be all Alice Waters. Everyone wants to know where the poor pig you're serving came from." With as much respect as she has for the question, you'd be a fool to trust her answer.

Wheelock, to top off her demonizing, cites a now-divorcing couple who once argued over the choice of ordering pizza or $1000 in catered meats and cheeses for their child's first birthday. (Using the kitchen was apparently not considered.) So we have one normal New Yorker, one crazed foodie, and one very unlucky birthday boy.
"Foodie" you can keep. We'd rather be called weirdos.