The Soup Nazi
The following postcard showed up in my FreshDirect delivery this morning. Have you ever seen a more pathetic piece of marketing material?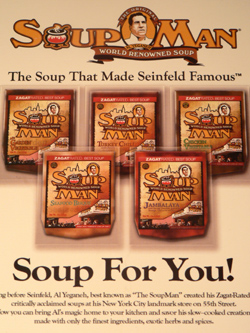 In case you can't read the text, it reads "Long before Seinfeld, Al Yeganeh, best known as 'The SoupMan' created his Zagat-Rated critically acclaimed soups at his New York City landmark store on 55th Street." Are you kidding me?
This, of course, is the man who inspired the Soup Nazi episode of Seinfeld, and he's certainly not "best known" as anything other than the Soup Nazi. If the Wikipedia is to be believed, he didn't even start calling himself the SoupMan until ten years after that episode of Seinfeld put him on the map.
I'm sure Yeganeh was making good soup and being a bastard before the episode aired, but to pretend he hasn't benefited from the show, and that he in fact made Seinfeld famous, is totally ridiculous and doesn't even make sense.