The simple life
I'm actually embarrassed to make tonight's post, considering that the dish I cooked was so easy and unsophisticated—basically a kid's first apartment dinner, if not trailer trash food. But when I placed the casserole on the table it was greeted with such heartfelt pleasure and expressions of satisfaction on the part of my family members, and their joy did not diminish, but increased, upon tasting and eating my creation, that I thought I should share it with my readers.
Take it as a given that in my heart I aspire to the kind of cooking that my fellow bloggers, The Wednesday Chef, Toast, and Creampuffs in Venice are posting about, and I do some of it, but the exigencies of family life dictate my choices more often than not.
I remember once, years ago, I had spent hours slaving over some potage or other, and put it on the table to little or no acclaim. It contained romaine lettuce as one of its chief ingredients, I think. Anyway, I was complaining to a friend that my cooking wasn't appreciated, and he said, "Who are you cooking for?" I'm not sure I was capable of enough honesty at the time to answer his question properly, but now I know who I'm cooking for.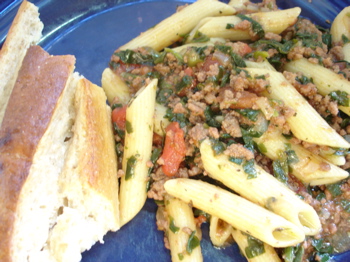 But back to tonight's simple little dinner. I stumbled across the recipe on the website Simply Recipes and it seems to have different names: Hamburger and Macaroni, Johnny Marzetti, and just goulash. Apparently the Johnny Marzetti name comes from the restaurant in Ohio where the dish was allegedly first created. The recipe on the website called for celery seeds (what?), which I omitted, and Worchestershire sauce, which I considered leaving out, but then thought it would give it that comforting school cafeteria/summer camp flavor, so I put it in. And I added a chopped green pepper. I also made everything in one big skillet, instead of the three (!) pans called for in the original recipe. And for a truly one-dish meal I threw in a big handful of frozen chopped spinach at the end and heated it through.
But honestly, with a recipe like this in your repertoire and a few staples in your pantry, you realize that there would never be any reason to buy a product like Hamburger Helper, with its ersatz flavors and suspect additives and chemicals, again.