The rice cooker I had to have
I've been pretty happy with my old rice cooker, a basic, on-off/keep warm Zojirushi model that I've had for probably 5 years or so now. It's maybe a little small, and we have started to eat more whole grains in our family—I'm adding whole wheat flour to more of my baked goods, some of the whole grain pastas are barely distinguishable from their white flour brethren except in a good way, and I've decided we are going to eat lots more brown rice.
And I've been happy with the Zojirushi brand; the old rice cooker still performs well and they make just about the best bread maker. So I asked for a new rice cooker for my birthday in February, one that could cook brown rice. Poppy did some research and got me essentially the newer version of what I already had. You know that awful moment of silence when you open a gift and the giver realizes it wasn't quite what you wanted; you don't want to hurt their feelings but at the same time in a case like this the new cooker was pointless. Evidently some folks on the internet had written that these basic cookers, designed for white rice, will work for brown if you adjust the amount of water you put in them and this is what he had read.
But I had my heart set on one of the new 'fuzzy logic' rice cookers, with special settings for brown rice so that I wouldn't have to experiment with water amounts. Plus, brown rice takes longer to cook, doesn't it? So we packed up the cooker he got from Amazon and sent it back, and I found a good deal on one of these fancy ones. Poppy was very sweet about the whole thing once he got over his initial disappointment.
I couldn't wait until it arrived and was shattered when the FedEx man attempted delivery one day while I was out, necessitating an extra day before I got my hands on it. I don't know if any of you have this particular rice cooker ; it was recently very well reviewed in the Wall Street Journal. The manual is quite thick but most of it is in other languages so there's really not that much to absorb; even at that it's quite incomprehensible. I put it aside that day and it sat in the carton for a month, until last night when I worked up enough courage to attempt to use it.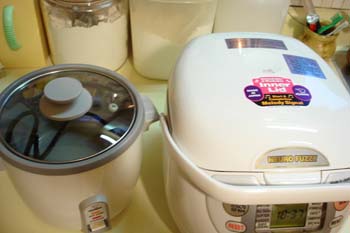 My first shock upon actually taking the cooker out of the box was its size compared to my old one—it's bigger than any other appliance I own except the microwave! Next was reading the manual and discovering that brown rice would take 82~108 minutes to cook. Why? It only takes 45 minutes on the stovetop! And I do wonder about all the rice-washing you have to do with rice cookers. This is something I never did until I got one of these, but their manuals insist on it—washing in quite a few changes of water, until the water runs clear. This takes forever with white rice!
This new cooker has measurements and directions for varieties of rice I never heard of and will probably never cook, like 'mixed rice', 'quick cooking' (and somehow I don't think that's Minute Rice), 'sweet rice', 'porridge' (I wish that were oatmeal, but from the recipe that accompanies it, something with 7 vegetables, I don't think so), and 'semi-brown rice'. I guess the Japanese have as many words for rice as the Eskimos have for snow but some definitions for the American market would have been useful. (Or should I have said 'Inuit', or doesn't it matter since the whole paragraph is so culturally insensitive that one word more or less couldn't help). There's also a special measuring cup and directions for something called 'musen mai' or pre-washed rice. I've never seen this anywhere but I wish I would so I could skip all this washing!
Anyway, we ate some lovely brown rice for dinner but it took an hour and a half to get it on the table. This cooker has a timer and if I can figure out how it works I can theoretically put rice on in the morning and tell it when we want to eat, so perhaps I'll take advantage of that. Or just start the rice a lot earlier than I'm used to. The old cooker cooks white rice really fast—in 15 or 20 minutes—so that's what I'm used to calculating the rest of my meal times by.
I just read somewhere recently that happiness lies more in the anticipation than in the actual fulfillment of a desire…