Tasting ramps
I do my best not to pass judgment on anything before giving it a try. I may have jumped the gun once or twice, but whenever possible I form my own opinion.
The other day I posted an item about ramps and fiddlehead ferns. Despite having just read a piece in the Times about how ramps aren't that good, I wanted to try them and see for myself just how weedy they tasted. So this morning I dragged myself out of the apartment at 9:30 and walked three blocks to the Union Square Greenmarket.
Ramps were everywhere for $2.50 or $3 per bunch. Sabena reports that Garden of Eden is selling them for $20 per pound, so this is rather a steal if you're fond of ramps.
We hadn't eaten breakfast yet, so I made slow-scrambled eggs and pan-roasted potatoes, both with a heavy dose of ramps. I wasn't quite sure what to do with the ramps themselves. I knew they were edible from top to bottom, so I washed them thoroughly and chopped them up. For the scrambled eggs, I sautéed the ramps in butter for a few minutes first, then I added the eggs. I did the opposite with the potatoes.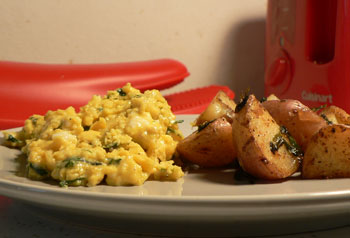 Ramps have a peculiar flavor, one that I can still taste an hour after breakfast. Weeds came to mind at the table, but Nathan reminded me that I have never eaten weeds. There is something distinctly grassy and funky about these things, though. I taste onion, but none of onion's sweetness. In any case, it's probably not something I'll buy again without having a recipe recommended to me. I'm certainly not running back to the market to get another bunch before they're all gone.