Swiss chard
I know that nobody wants to read about someone else's homespun pasta dish, but this post is more about the sauce than the pasta.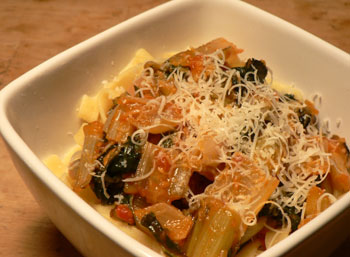 I am way into swiss chard these days, especially the stems (my beloved spinach and collards have been displaced). I've been ordering bunches from FreshDirect and cooking the leaves on one night and the stems on another. Sometimes I cook them separately on the same night and serve them together. Sometimes I boil them and then sauté them, and sometimes I don't bother boiling. Tonight, I cooked the chopped stems with onion, garlic, and red pepper flakes in olive oil for over an hour, until they were meltingly soft and sweet. On top of FD's fresh fettuccine with parmesan, it was a lovely, healthy dinner.
Now it's confession time: I have gotten in the questionable habit of adding a few tablespoons of Rao's jarred marinara sauce to my pasta sauces. Years ago, I would just dump half a jar of Classico on boiled spaghetti, so at least I've moved on from that. Do I need to feel bad about this? It's such a simple, high-quality sauce, and it flavors and emulsifies my own sauces so nicely. It takes me a long time to get through one overpriced jar, but I always feel a little guilty during the act, and I keep my back to the rest of the room. Especially when I am licking the spoon clean.