Sweet potato gratin with manchego
I'm in a vegetable gratin phase here, influenced entirely by Richard Olney. Summer will be here before we know it, and my oven is working overtime. I've been layering countless potatoes, onions, and turnips with butter, cheese, and cream, and baking them until golden brown and bubbling. Nathan's starting to think he could make it as a vegetarian.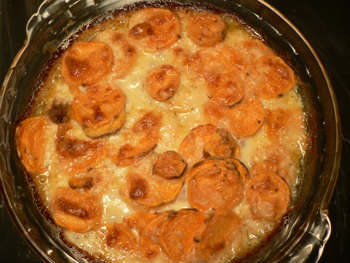 This sweet potato gratin is extremely simple and easy to alter depending on your ingredients. I made it in a post–happy hour stupor without really knowing what I was doing until it was in the oven. Quantities are approximate—sweet potatoes are excellent no matter how hard we try to screw them up.
2 tablespoons butter
2 tablespoons flour
1/2 cup heavy cream
1/2 cup milk
1/2 cup grated manchego cheese (or, in order of preference, parmesan, gruyère, or cheddar)
Salt and pepper
4 medium sweet potatoes, peeled and sliced about 1/8" thick with a knife or a mandoline (this is easiest and safest if you slice one side to make it flat—you can use the sliced side in the dish, of course)
Butter a gratin dish (I used a pie plate) well. Mix the cream and milk together and heat them slowly in a saucepan. Melt the butter in another saucepan, and mix the flour into it to make a roux. Whisk the cream and milk into the roux slowly. Bring the mixture to a boil and then lower it to a simmer. Whisk in the cheese until it's melted. Season with salt and pepper.
Layer the sweet potatoes in the gratin, and pour the cream sauce over them, making sure it goes all the way to the bottom. Depending on the dish you use, this may seem like too much sauce, in which case you should hold some back. Feel free to sprinkle a bit of cheese on top before baking for about 30 minutes at 350º or 400ºF. You'll know when it's done.
We intended to just eat a bit of this since it's so rich, but after a while we gave up. I have no idea what else we ate that night. Meat becomes so much less interesting next to well-prepared vegetables.