Stuffed squash and goodbyes
My kitchen table is gone, and with it, my desire to even make an effort to put food on the table in this apartment. Boxes surround us, full of my gadgets, spices, dry goods, and glassware. It took a long time for me to figure out how to make this kitchen appealing to work in, and once a few pieces are missing it goes back to being what it was when I moved in: a stove in the living room.
But I celebrated the arrival of fall today with stuffed butternut squash, from the painfully charming Moosewood Cookbook. It was less of a recipe than a suggestion; all I wanted was squash and apples, so it worked out fine.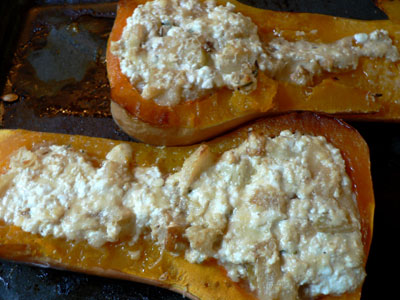 Split a butternut squash, scoop out the seeds, and bake it until it's soft enough to eat, about 45 minutes. As it bakes, sauté a chopped onion with a chopped apple, and mix it with a half cup of cottage cheese and a half cup of grated cheddar. Squeeze in some lemon juice, season the mixture, and add a dash of cinnamon (my cinnamon is in a box, but I used some fresh thyme instead). Stuff the squash, and bake until it's starting to brown.
I served with it my first applesauce of the season, and it made a fine meal. Nathan said it was the best thing he can remember eating in recent memory. This is more praise than the dish deserved, but it made me realize how little I've been in the kitchen this summer. Between the heat, houseguests, and now the packing, it's been a sad summer at the stove. In the back of my head, all I wanted was to move.
And I'll be in my new digs one week from today, with new inspiration and more room to work and store things. I know that a good cook can prepare a good meal in any kitchen, and I feel that that is mostly true of me. But night after night, year after year, it becomes boring to balance the too-big pans on the little stove, and to stack dishes on the counter, and to wait five minutes for hot water, and to dig food out from behind and under the stove so that the mice won't come back. Buying a pound of fresh pasta and saucing it with Rao's seems cheaper and easier each day, and I need to pull myself out of that rut.
Kitchen talk aside, I couldn't be more ready to bid downtown farewell. I don't necessarily expect things to be calmer up in Harlem, but maybe I'll find a new way to deal with the anger I battle in this neighborhood, or at least I'll find new things to get mad at. I won't have to listen to the dreaded Saigon Grill protesters, who've managed to get me to shout more four-letter words on the street than I care to admit. I won't have Murray Hill marketing types call me and Nathan "fags" when they think we've stolen their cab (although we're sure to get called "fags" at some point or another in our new neighborhood). I won't hear that cursed screetching noise from the fans above Spice, which forces us to keep the precious rear windows closed. I'll trade these grievances for new ones, and I can't wait.