Strawberry shortcake festival
Yesterday was the Brouwer family's tenth annual strawberry shortcake festival in Yonkers. The rumor at the table was that the recipe came from Better Homes and Gardens, but Emily is free to dispute that in the comments (although I think she was the one who told me). I'm sure there was no "whipped dessert topping mix involved" as called for in the recipe—that cream tasted fresh.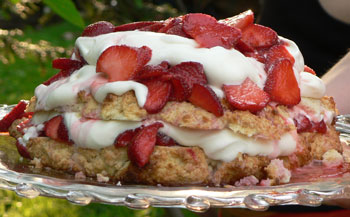 The shortcake was delicious, and it reminded me of sitting in our backyard on Parkview Avenue in Pittsburgh eating it with mom at the picnic table. Mom: why did we used to eat shortcake once a year for dinner? I know it was part of some family tradition, but I can't remember it exactly. One of my favorite childhood memories is eating it one night when my older brother was in trouble and confined to his room. I got to eat dessert for dinner alone with mommy on a beautiful summer evening; life didn't get any better than that.