Stinging nettles: not worth eating
I didn't even know you could eat stinging nettles until I moved to New York. Living here, you hear about all kinds of seasonal produce that you didn't know about growing up in Pittsburgh or wherever else. My only experience with stinging nettles was getting stuck in fields of them on my grandparents' land in Maryland, and running as fast as I could to get out, usually just ending up deeper than I already was. (That's kind of how this meal turned out.) I liked the idea of eating them, and a recent recipe in New York Magazine sounded simple and good.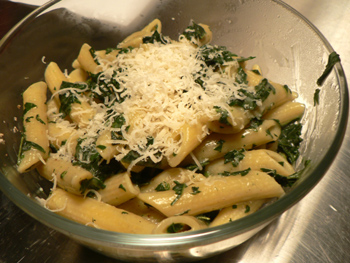 But this is exactly the kind of food that I have come to view as a complete waste of my time. It's a recipe for the sake of the main ingredient, which is utterly unappealing, not to mention a pain in the neck to prepare. It's Greenmarket, "foodie" food, and I don't like it. I stood there for twenty minutes with plastic bags on my hands (I don't have dish gloves), pulling hundreds of leaves from their stems, hoping it would all result in a simple, fabulous meal. But nettles taste like something you shouldn't be eating, like a disgusting, homeless weed. And to think I used full amounts of everything BUT the nettles, of which I only used about half the amount called for. This dish has more nettles than you could eat in your life.
I added a couple tablespoons of crème fraîche just to make it palatable, but I wish I had used any other green leaf: spinach, basil, chard, lettuce; anything would have been better. What a waste of the fresh penne! What a wasted meal! I'm all for simple, three-ingredient dishes, but let them be good, please. Let them be tomates à la crème, or gratin dauphinois. I want ramps, nettles, and other such weeds out of my kitchen; I just have to remember not to be wooed by romantic, attractive recipes.