Steak and Shrimp Kebabs with Peanut Sauce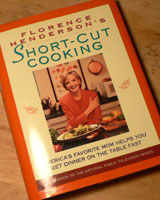 As I mentioned in a previous post, my Florence Henderson cookbook rules.
However, Short-cut Cooking is no longer in print. It follows that
I have the short-cuts—you don't.
Florence belongs to me.
Marsha, Marsha, Marsha.
Mrs. P's kitchen and Florence's television kitchen both have antique-style prints of tomato varieties.
This delicious recipe may be lost to history if I do not post it here.
Florence credits I Dream of Jeannie star Barbara Eden for inspiring the recipe. (Apparently Jeannie makes a killer lamb kebab.)
In preparing the meal, I find it helps to imagine yourself as a mother of six traipsing around in a harem-inspired costume. Or, if you have such a costume, by all means put it on. And send us pictures.
Peanut Sauce
2 tablespoons lemon juice
2 tablespoons soy sauce
1/2 cup creamy or chunky peanut butter
2 to 3 cloves garlic, crushed
1 tablespoon chopped fresh ginger
1 tablespoon light or dark brown sugar
1/4 teaspoon crushed red pepper flakes
1 tablespoon olive oil
1/2 cup orange juice
Salt and freshly ground black pepper to taste
Kebabs
1 lb. tenderloin, cut into 1 1/2 inch cubes
2 dozen large shrimp, peeled, tails left on
4 lemons, cut into wedges
1/4 cup soy sauce
1/4 cup white wine
1 clove garlic, minced
freshly ground black pepper
Dash of cayenne pepper or hot pepper sauce
2 teaspoons fresh rosemary
8 skewers, soaked
Serves 4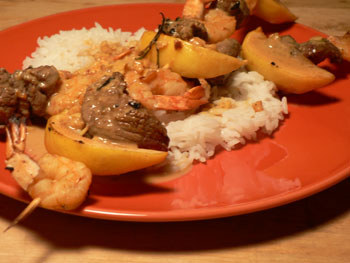 Combine all sauce ingredients. Florence suggests a food processor for blending. Perhaps, when you're married to an architect or an astronaut, food processors line up for you, ready for use. In this house you're lucky to find a willing spoon. A spoon works fine. Set sauce aside.
Combine all kebab ingredients. The kebabs can be cooked on a grill or in the broiler. We've already explored NYC stovetop grilling, so I settled for broiling. Unfortunately this means you won't be able to drizzle the substantial remains of the mixture on the cooking kebabs, so you may want to skimp on those ingredients.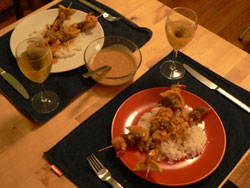 The kebabs will cook in five minutes; turn them at three. Expect to raise the temperature of your apartment at least five degrees. (It's the "broiler," you're asking for it.) And you may as well disable your fire alarm right now—burning soy sauce produces smoke, and those fancy new detectors all New Yorkers had installed against their will (FIre. FIIre. FIre. [ear-bleeding beep series] ) are not kidding around.
How good is this dish? I'm tempted to suggest, as would an UrbanDaddy restaurant preview, that making this dish will make your gal put out. That would please our audience of five straight men. So let me rephrase. If someone makes you this dish, put out.
Unless they're the kind of guy to end with a really lame kicker.