Spiced lentils and roasted carrots
This month's Gourmet has a spread on April Bloomfield, the chef at Manhattan's The Spotted Pig. I was excited to see it, as I have fond memories of the passed hors d'oeuvre on offer at Nathan's company's Christmas party, which was held at the Michelin-starred Pig last year. Bloomfield seems to be interested in the kind of food that I love: hearty, mouth-filling combinations of sweet and salty. Nothing too fussy. Tonight, I made her spiced lentils and roasted carrots, and I teamed them with bacon chicken: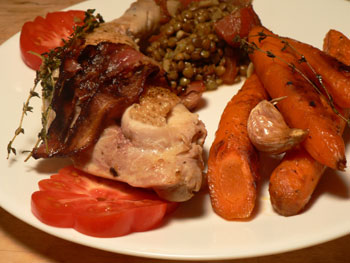 Of course, neither of these recipes appear at epicurious, which always seems to happen when I want my people to actually make something. Never fear; I will transcribe them below. The carrots were the highlight. I rarely make carrots, although they are perfectly easy, good for me, and good to eat. And I have never made lentils before. I didn't know what to expect in the cooking process, but it seemed to go off without a hitch. I'd like them to taste a bit less chalky, but that may be the nature of French lentils. These were loaded with spices, perfect after a day of drinking sweet Hoegaarden at a hipster bar in Brooklyn (don't worry, Mom, I went jogging too!).
Roasted carrots with thyme and garlic
2.5 pounds carrots, peeled and halved lengthwise diagonally
1 head of garlic, cloves separated
1/4 teaspoon Maldon sea salt
1/8 teaspoon black pepper
Preheat the oven to 400ºF. Heat oil in a 12-inch heavy ovenproof skillet until beginning to smoke, then add half the carrots, cut sides down, and cook until they brown (12 to 15 minutes). Transfer to a plate, and repeat with remaining carrots but leave them in the skillet. Add the butter, stir, and return the other carrots to the skillet (I didn't bother with all this back and forth—I just cooked them all at once and added the butter when I felt like it). Add the garlic, thyme, salt, pepper, and water, cover with aluminum foil, and roast for 20 minutes. Remove the foil, turn the carrots, and roast for 20 minutes more, until the carrots are tender and you can't resist them any longer. (To make bacon chicken, take the carrots out of the pan, throw some bacon in, let the fat render, then cook chicken legs, skin-side down, until the skin turns crispy. Turn them over, add a bit of white wine or broth or water, cover, and cook for 20 minutes or so, until the juices run clear. Season as you like.)
Spiced lentils
Bloomfield insists on using "fresh" dried spices here, which is totally ridiculous. You'd spent $50 just to make lentils. See notes below.
2 tablespoons coriander seeds (I used the ground I already had)
1.5 teaspoons fennel seeds
1/4 teaspoon turmeric (I used my curry powder)
1/4 teaspoon ground ginger
1/4 teaspoon ground cinnamon
1/4 teaspoon ground allspice
1/4 teaspoon chili powder (I used cayenne pepper)
1.5 tablespoons olive oil
1.5 tablespoons finely chopped garlic (4 cloves)
1/2 cup drained canned tomatoes, chopped
1 tablespoon fresh grated ginger
1 1/3 cups small French green lentils
Toast the whole spices, grind or pulverize them with a mortar and pestle, and mix them with the ground spices. Heat the oil, cook the garlic for thirty seconds, and add the spices. Cook for a minute, add the tomatoes and half the fresh ginger and cook until the liquid evaporates, about 2 minutes. Add the lentils and water and simmer, mostly covered, for 25 to 30 minutes or until tender. Stir in the sea salt and remaining fresh ginger, turn off the heat, let stand 15 minutes, and serve with a slotted spoon.