Spaghetti cacio e pepe
A few months ago, I had the good fortune to watch a cooking demonstration by Mark Ladner of Del Posto. Mark is one of the nerdiest, coolest cooks I've ever watched. He's obsessed with ingredients, from the salt in his pasta water to the olives in his olive oil. He very precisely demonstrated spaghetti cacio e pepe, a simple preparation of peppery pasta (alliteration not intended).
At the demo, Mark handed out little postcards with a list of what he calls the 10 Most Important Details, among them "100g pasta = 1 liter boiling water = 10g sea salt," "Make sure butter is cold when finishing for strong emulsion," and "Never allow oil to smoke." I committed these various details to heart before embarking on the simple and strange recipe, and I ended with a dish that was considerably better than the sum of its parts. It's quite spicy, and perfect on a cold night such as we've been having here.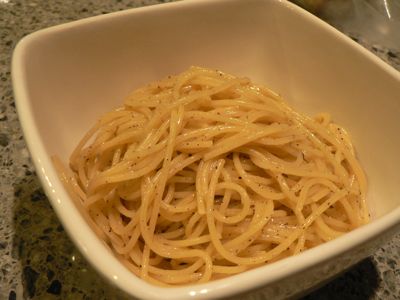 For two servings:
4 oz. spaghetti (Setaro if you can get it)
1 gallon water
1 ounce sea salt
1/4 cup reserved pasta water
1 tablespoon olive oil
1 teaspoon whole butter (who's ever heard of a teaspoon of butter?)
1 teaspoon freshly ground (or don't bother) black pepper
1 tablespoon freshly grated (ditto) Parmesan cheese
Bring the water to a full boil and then add the salt. Add the spaghetti, don't touch it for a minute, and then stir it vigorously. Cook until still firm. Reserve 1/4 cup of the cooking water, and drain the pasta. Put the pot back on the heat and dry it out. Briefly toast the black pepper (be careful, as it will burn fast), and then add the reserved water, the oil, and the butter. Return the pasta to the pot and cook for another minute or until done. Finish with the cheese, and serve.