Spätzle
Sorry for the slow pace of posting these days, dear readers of Eat; my poor mother still has no kitchen. I promise we will be back in full swing by the end of the month.
This is about the time of year that I get tired of summer eating and want something heavy and slowly cooked. So tonight I braised chicken thighs in red wine and served them with homemade spätzle: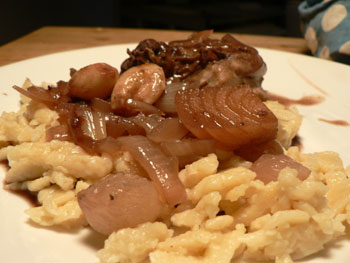 It was so good! I had never made these noodles before, but it sounded easy enough from the various recipes I found online. The batter (made of 2 cups flour, 1 teaspoon salt, a bit of ground nutmeg, 2 eggs, and 3/4 cup milk) did not pass easily through my colander, but the noodles came out looking very rustic and tasting just as I expected. I boiled them until they floated and looked fluffy, and then I sautéed them in the tiniest bit of butter (I promise, mom!). The downside is the dishes that result, which might as well be covered in cement.
I can't wait for fall and winter cooking!